Rishikesh is becoming an adventure spot for the travelers and backpackers, visitors will get to try many activities which are extremely thrilling as well as enjoyable, which will give you many memorable experiences.
People who love exploring new places, who love nature, and mountains, who find peace near river, Rishikesh is the ideal spot for those travelers. This beautiful city is located in the southwest Uttarakhand, and is known as 'Yoga Capital' as well as the 'gateway to the Garhwal Mountains', as the way for many places like Tehri, Narendra Nagar, and many more places is connected from Rishikesh.
Rishikesh is a full package of adventure as well as peace and should be in your bucket list. You will definitely pack your bags after knowing the best things you can do in Rishikesh, below is the information about the different activities which you can do in Rishikesh under pleasant weather and beautiful surrounding.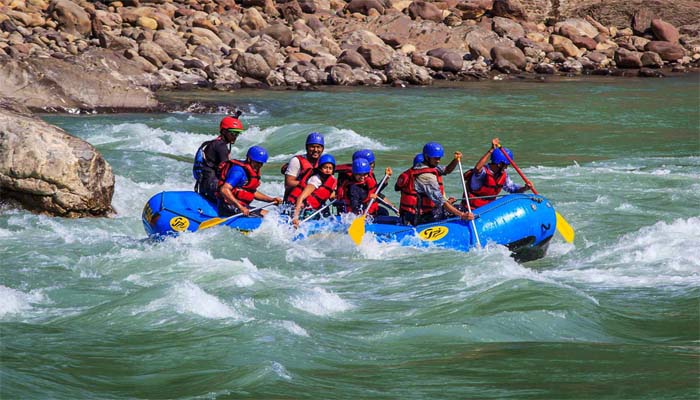 1- RIVER RAFTING: Rafting is a water sport activity, which you can easily do in Rishikesh. It is an adventurous activity water sport activity, which involves sailing on rapids on a rubber raft or boat.
People group to Rishikesh for this activity due to the goodness of its location. The beauty of Rishikesh surrounded by Himalayan Mountains, flowing river Ganga, which makes it more popular spot for River Rafting in Rishikesh.
BEST SEASON: Summers and Monsoons are the best time for this activity because the stream is high and strong.
Also read: Complete guide on rafting in Rishikesh.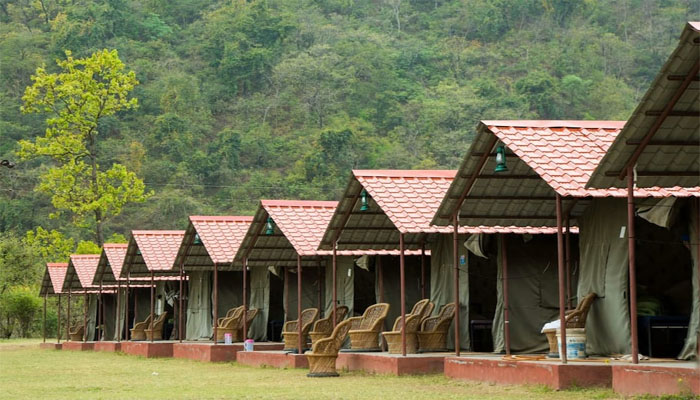 2- CAMPING: The beautiful scenery view of mountains, and the sacred Ganga flowing on the corners, make this a idea destination for camping to the backpackers, and adventure seekers.
This place has lot of stories to be explored and discovered, which makes it a perfect spot for camping to the campers, surrounding beautiful mountains and sounds of the nature.
BEST SEASON: Summers and Spring are the best time because of the pleasant weather.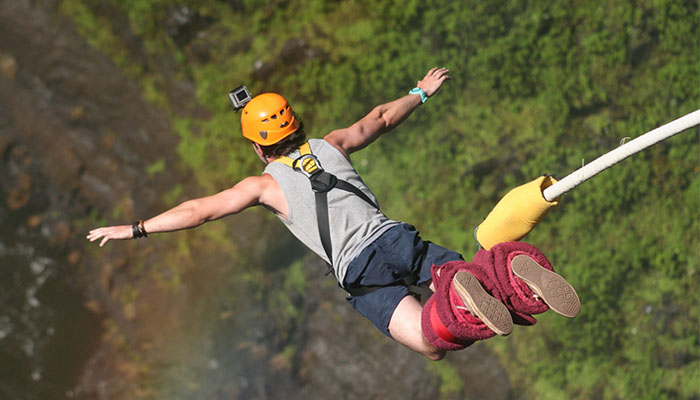 3- BUNGEE JUMPING: Bungee Jumping is another extreme adventurous activity that involves jumping from a tall building or cliff while knotting your legs to a rope. The amazing fun is in the jump and the recoil one experiences when they are bounced back and the rope directly stretch out.
It is a very different and difficult activity as well as, one needs to be mentally and heart strong for doing this activity. It needs a lot of courage to performs this activity.
BEST SEASON: This activity can be done throughout the year except rainy season.
ALSO READ: Complete guide on bungee jumping in Rishikesh.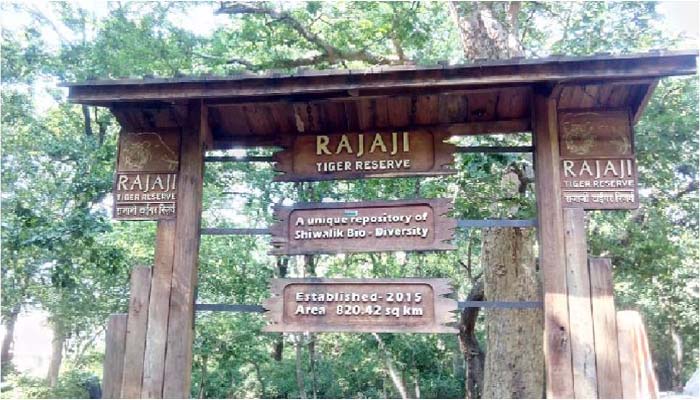 4- RAJAJI NATIONAL PARK: The Rajaji National Park is both a National Park and a Tiger Reserve. It is also known as elephant habitat as there are around 6000 Elephants in Rajaji National Park. This reserve also has 250 leopards and 16 tigers.
Rajaji National Park also has received honor of being second tiger reserve of Uttarakhand, after the Jim Corbett National Park.
This wildlife reserve is center of attraction for the nature lovers, photographers, adventure enthusiasts and wildlife lovers. Rajaji National Park is a spot one must definitely visit in Rishikesh.
BEST SEASON: You can visit this National Park any time of the year.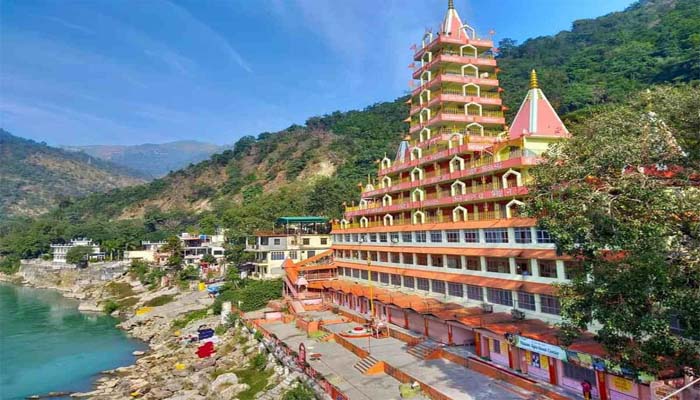 5- SPIRITUAL WALK TOUR IN RISHIKESH: Located in the foothills of the Himalayas, Rishikesh is a best spot on the Indian spiritual travellers. The greenery of mountains and sacred river Ganga attracts thousands of tourists from all over the world towards this place. Spiritual walk or tour refers to exploring the spiritual places like Trayambakeshwaram temple, Parmarth Niketan Arti Sthal, this tour mainly is about exploring and visiting temples near River Ganga, which gives you inner peace. Rishikesh Narrates all the mythology aspects of the Himalayas and Ganga River. Witnessing the culture and religious of Rishikesh, and their influence on the Hindu social system, this all comes under the Spiritual tour of Rishikesh.
BEST SEASON: You can do spirituality tour at any time of the year.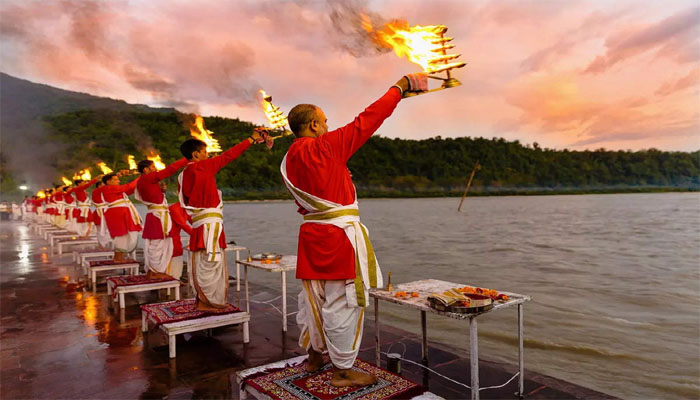 6- GANGA ARTI AT TRIVENI GHAT: Not all of the places in Rishikesh provide you peace and calm as the Triveni Ghat gives you. Ganga Aarti at Triveni Ghat is a calm and peaceful experience that is sure to fill you with relaxation and soul-searching.
Ganga Aarti is performed as a mark of respect and loyality to Goddess Ganga and it is attended by thousands of locals as well as by tourists each day.
It is a sacred procedure which hold power of spirituality, and can be truly understood and experienced by attending this Ganga Aarti in Rishikesh.
BEST SEASON: The Ganga Aarti is performed throughout the year.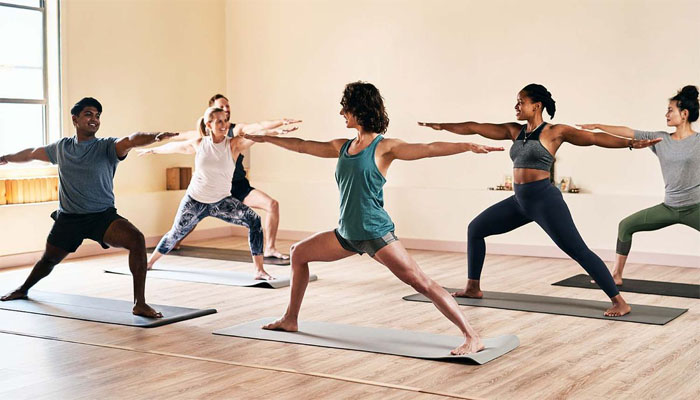 7- YOGA: Rishikesh is known as the 'Yoga Capital' OF India. Yoga is a form of exercise in which you place your body in different positions or postures to increase flexibility or fitness in the body.
Yoga is based on very fine branch of science and is a spiritual manner which focus on achieving inner peace and harmony between body and mind.
Yoga originated thousand years ago in India itself, India is known as the 'land of yoga', people from all over the world learn and practice yoga in India. Rishikesh which is known as 'Yoga Capital of India' there are many yoga schools in Rishikesh which give yoga training, and one must visit and practice yoga if coming to Rishikesh, it will give you peace of mind and relaxation of body.
BEST SEASON: You can visit and practice yoga any time of the year.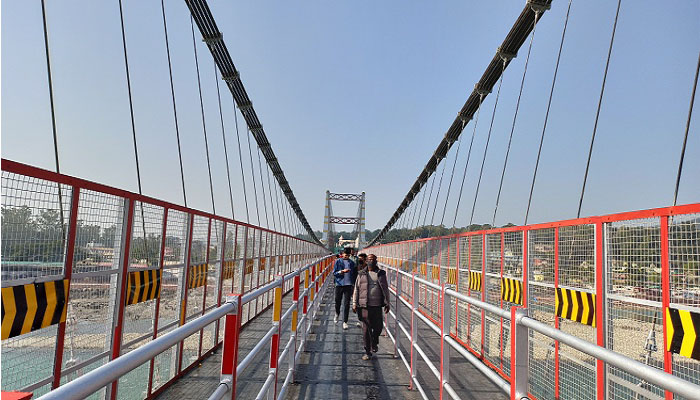 8- VISIT JANKI SETU BRIDGE: Janki Setu Bridge in Rishikesh, of state Uttarakhand, India is a 274m long pedestrian and vehicular bridge as well that is built over river Ganga.
Janki Setu was launched by chief Minister Trivendra Singh Rawat, to find and make new identity for Rishikesh. It connects Tehri and Pauri districts. It is a three-lane bridge where two lanes are for pedestrian and one for vehicles, only two-wheeler vehicles are allowed on this bridge. Through this bridge people can easily access the famous ashrams of Rishikesh, and one must definitely visit to see this amazing new bridge once.
BEST SEASON: You can visit this bridge any time of the year.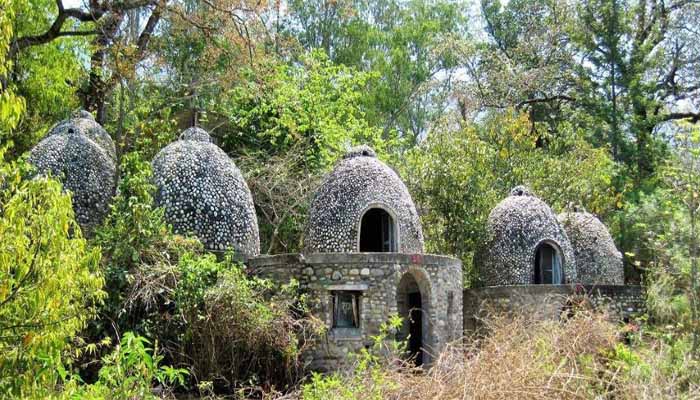 9- VISIT THE BEATLES ASHRAM: Beatles ashram is a very beautiful testimony to magnificence John Lennon, Paul McCartney, Ringo and George Harrison's Beatles and has a lot of records and artefacts that gives you information about their great time and relationship in India and their interaction with Maharishi Mahesh Yogi.
It was a spot where they composed a lot of their songs and some music albums were even created here.
BEST SEASON: The beatles ashram can be visited any time of the year.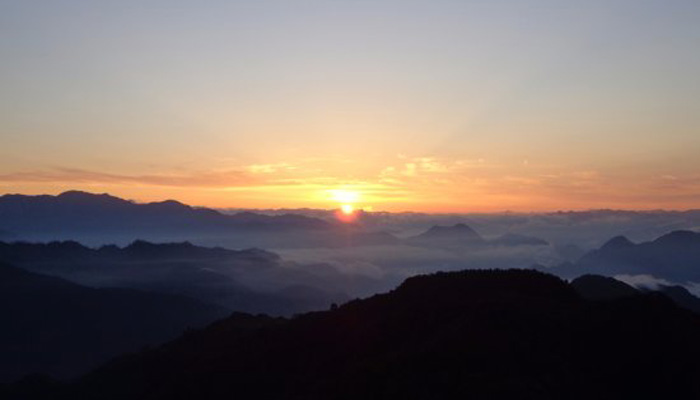 10- THE KYARKI SUNSET POINT: Kyarki sunset point is located near Neergarh waterfalls on the hill top in Kyarki. Locals as well as tourists visit this place to watch the amazing sunset view. This place is mainly famous for its sunset view.
Rishikesh is a beautiful city with panoramic views of beautiful hills and river Ganga, it is important to watch some sunset views that will leave you in wonder. This place is one of the unexplored and untouched one. One should must visit and take the chance to view the beautiful scene of sunset.
BEST SEASON: During the time of summer and winter you can enjoy the view of beautiful sunset.
Also read: Sunset point kyarki Rishikesh.