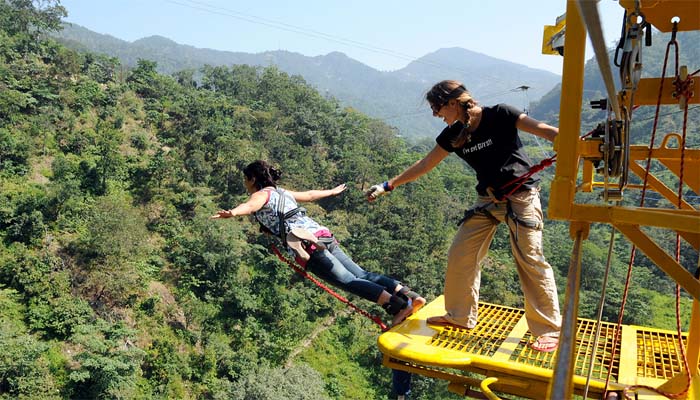 Bungee Jumping is very challenging and Adventurous, It involves a person jumping from a great height, participant's feet connected to a large elastic cord. The tall structure can be a crane, building, bridge. The bungee jumping started in 1979, and since then this became widely popular. Bungee jumping is one of the most enjoyed extreme sports available in almost every destination in the world.
| | | |
| --- | --- | --- |
| PLACE | HEIGHT | RATE |
| JUMPIN HEIGHTS | 83 MTRS | 3700/- (PER HEAD) |
| THRILL FACTORY | 55 MTRS | 3000/- (PER HEAD) |
| HIMALAYAN BUNGEE | 120 MTRS | 3700/- (PER HEAD) |
RATE LIST OF BUNGEE JUMPING IN RISHIKESH
Bungee jumping is for everyone aged over eighteen years and does not require any prior experience. You don't have to buy any equipments, you are ready to go on the spot of bungee jumping. The most hardest part of the bungee jumping is being able to gather enough courage to do it. Also, there are precautions to take seriously for security purposes. Bungee jumping may have health risks for people who are overweight or with injuries. People, with heart problems, high blood pressure, pregnant women, asthmatic patients are not advised to do bungee jumping.
Being an adventure sport, it is exciting and challenging also, it needs strong courage, People who don't have fear from height are pwerfect to do this activity, but who have a height phobia must not attempt this activity, this can also risk there life.
BUNGEE JUMPING POINTS IN RISHIKESH
JUMPIN HEIGHTS: Jumpin Heights is an extreme adventure zone in Rishikesh, which is famous for bungee jumping, people come here and take chance to once challenge themself.
You can take experience of bungee jumping in between the outstanding and stunning landscape view of Rishikesh. As well, it is India's first professional operated cantilever for jump's. It provies you the extreme and true adventure, and bring out the true enthusiast from you. The bungee is designed by experts from New Zealand. The Cantilever is constructed over a rocky cliff over-looking the river Ganga.
JUMP HEIGHT: 83 METRES
PRICE: 3700/- (PER HEAD)
THRILL FACTORY: Thrill Factory is a great place in Rishikesh, Shivpuri and a complete adventure destination in Rishikesh, Which guarantees you an awesome and amazing adventure experience of bungee jumping. It is a one-stop adventure spot in between the lush green surrounding of Rishikesh. It offers you the bestest adventure and games, one can do bungee jumping here on a good rate.
JUMP: 55 METRES
PRICE: 3000/- (PER HEAD)
HIMALAYAN BUNGEE: Himalayan Bungee is a amazing place in Rishikesh Shivpuri providing different activities under it, Bungee Jumping is most enjoyed and demanded activity by the tourists, they love to perform this activity as it is exciting and gives you thrilling experience. Himalayan Bungee is situated in shivpuri, and is considered as a good place for bungee jumping. The jumping is performed under supervision of experts and well trained crew of bungee jumping.
JUMP: 120 METRES
PRICE: 3700/- (PER HEAD)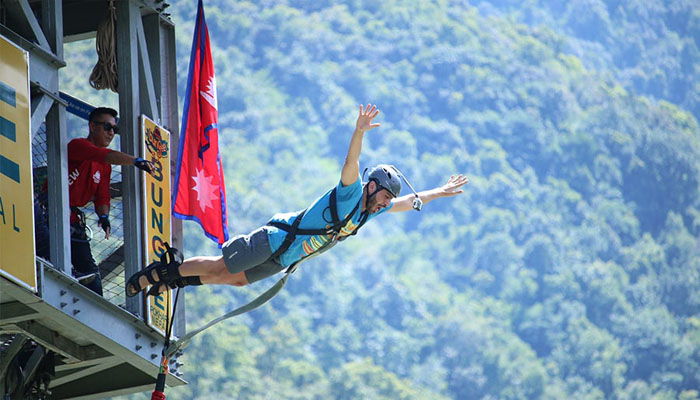 SAFETY TIPS DURING BUNGEE JUMPING IN RISHIKESH
Bungee Jumping is not for everyone, and specially not for those who are faint hearted, and have fear of height. It is not a regular or easy sport we do in daily life, it falls in the category of extreme adventure. Once you have came over the fear of being falling from height you can show off among your friends about your dare and savage personality. Bunge jumping is not for normal people who get easily nervous, it is for the crazy ones who challenge and does not fear of height.
Bungee Jumping was first invited by Jumpin Heights in Rishikesh, visitors love to come over there fear by doing Bungee Jumping.
Before planning to do Bungee Jumping some safety tips should be known to you so you may not face any kind of problem at the final spot.
Lead From The Front: The longer you wait, the more time you spend making excuse, and convincing yourself to back out from the final spot, Your fear of heights will not go just from looking other people jumping.
Ready, Steady and Go: Jump before the trainer ends the countdown, chances are you will not jump if they will finish the countdown.
Always Look Straight Don't Look Down: This is the mistake everyone make during Jumping, It will make you feel scary from the top looking down, look at the eye level or close your eyes while jumping.
Choose your Safe Place: Bungee jumping is about getting good experience, so choose a trusted brand well trained staff and calming environment, because it is adventurous as well as life risking sport at the same time. Choose the best!
Trust the Jump Instructors: The instructors who instruct you during Bungee Jumping are well trained, qualified instructors who have gone through in-depth international training to become a qualified trainer, so trust the instructions and follow them, they will guide you to the safety.
Wear Comfortable Clothes: Wear clothes like t-shirt, shorts, track pants, don't wear heels, dress, or skirt type clothes during jumping. You can do bungee jumping with shoes or without but take note to tighten you laces nicely.
Don't Overeat: Before jumping don't overeat , jumping empty stomach is much better than vomiting in the valley while jumping and hanging
Read Before You Sign: Read the instructions carefully, don't perform jumping if you have any heart problem, chronic disorders, back ache, etc.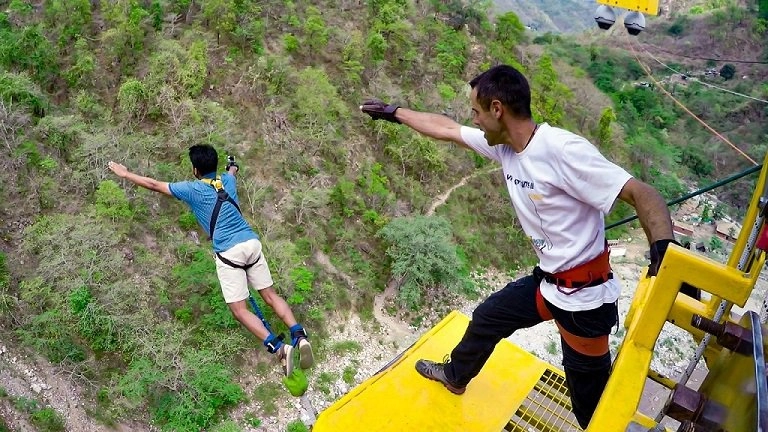 FAQ's (FREQUENTLY ASKED QUESTION)
Q1- Is bungee jumping open around the year?
ANS- Bungee jumping activities are shut during the monsoons, from july-September.
Q2- How much time does bungee jumping take to complete?
ANS- It takes 1.5 hours to complete 1 bungee jump (including ticketing, waiting period).
Q3- After the jump, how does one return back?
ANS- You need to trek back up for around 500mtrs. Which takes around 20mins.
Q4- Is there any medical condition which are prohibited?
ANS- Due to being an extreme adventure activity in nature, bungee jumping is not suitable for people with any health condition such as heart, chronic, or any fracture problem. Pregnant women are also strictly not allowed to do bungee jumping.