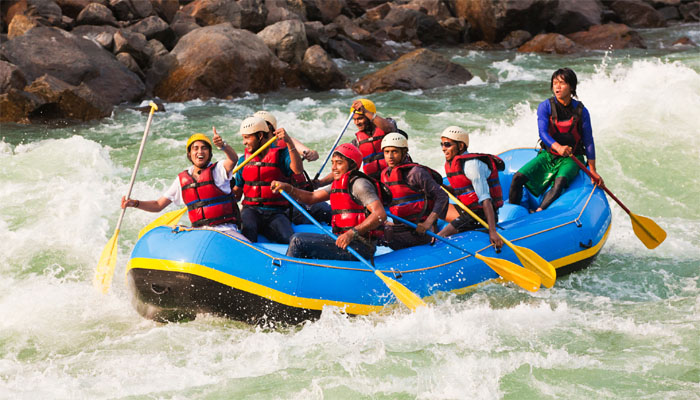 Adventure, is what everyone wants in their life, to challenge themselves, to come out of fear, and to prove that you're strong enough. You must have heard of many adventurous activities like Trekking, Camping, Bungee-jumping, hiking, paragliding and any more like this, one of them is Rafting.
Rafting is one of the most exciting and challenging activities nowadays which everyone is willing to do, Rafting is an outdoor activity, and a water sport which is not only meant for adults only, it is a safe activity under guidance which can be enjoyed by any age group of people.
Rafting is very famous in every corner of world, and one of the place where Rafting is recently growing is Rishikesh, Adventure, and great outdoor experience begins in Rishikesh with Rafting.
Rishikesh is most popular town in India for Rafting, which fascinate thousands of adventure explorer's everytime. River rafting is one of the finest water sports in Rishikesh in the sacred water of Ganga river. Rafting is not only famous among the locals of Rishikesh or India, even the Foreigners come and enjoy the adventure and spirituality of Rishikesh.
Rafting in the holy water of Ganga river is the best experience you will remember for rest of your life. Rishikesh have different Rafting points from where you can start you Rafting according to the Grades of Rafting. Grades are meant for the tourists who love adventure and challenges, they can choose appropriately at what grade they want rafting choosing their expertise and preferences.
As per guidelines of Uttarakhand Tourism: Childrens below 14 years and pregnant women are not allowed for Rafting in Rishikesh.
RIVER RAFTING POINTS IN RISHIKESH
BRAHMPURI TO RISHIKESH(9KM)
(EASY AND SHORT):
Distance from Brahmpuri to Rishikesh is around 9 kms. It is the most easy and short Grade I rafting. This Rafting is meant for the learners or for the beginners, people of age group around 14-16 years can also enjoy this journey of Rafting in Rishikesh. It strikes some good and enjoyable Rapids in Ganga. It is a good experience one can have in the water of river Ganga. The stretch starts from Brahmpuri to NIM beach Rishikesh.
RAFTING GRADE I
COST PER PERSON: 600/-
Approx time: 1-2 hours
RAPIDS: sweet sixteen, double trouble, and black money.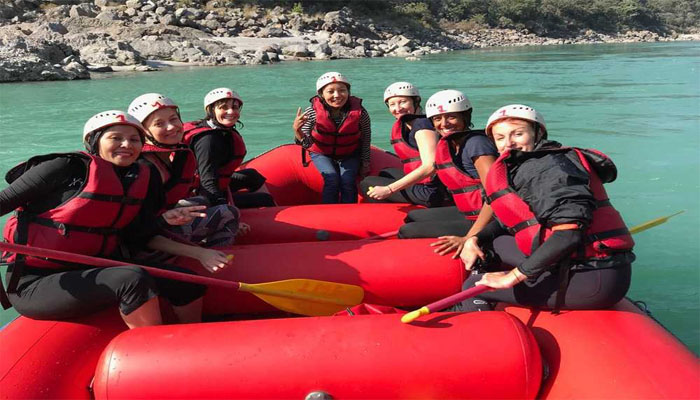 SHIVPURI TO RISHIKESH (16KMS)
(EASY, MOST SELLING, & BUDGET FRIENDLY):
Distance from Shivpuri to Rishikesh is around 16 kms. Rafting season in Shivpuri starts in mid October and ends around June. This rafting stretch starts from Shivpuri to NIM beach Rishikesh and covers some exiting rapids. The Total cost of this Rafting package includes picking you up from rafting office Rishikesh to travel Shivpuri.
RAFTING GRADE II
COST PER PERSON: 1000/-
Approx time: 2-3 hours
Rapids: Roller coaster, club house and cross fire.
MARINE DRIVE TO RISHIKESH (26KMS)
(MOST POPULAR AMONG COMBINED OR MERGED):
Distance from Marie Drive to Rishikesh is 26 kms. That takes around 2 hours to reach the destination. The Rafting stretch from Marine Drive to NIM beach Rishikesh and is of moderate level in compare to Shivpuri one, and you also hit some enjoyable rapids during Rafting.
RAFTING GRADE III
COST PER PERSON: 1500/-
Approx time: 3-4 hours
Rapids: Golf course wall and roller coaster.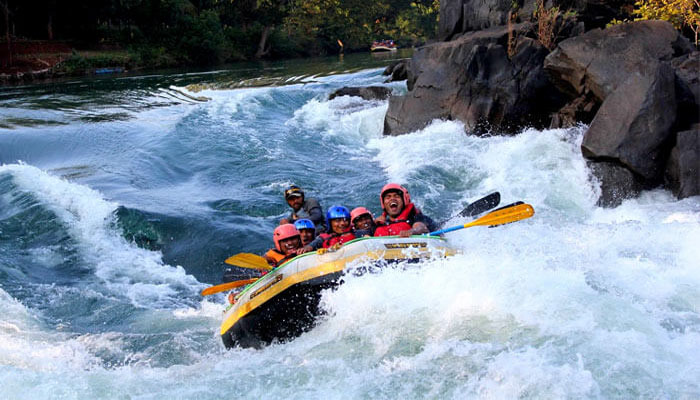 KAUDIYALA TO RISHIKESH (35KMS)
(MEDIUM HARD):
This Point of Rafting is quite challenging as compared to others, it serves the right amount of adventure and challenges to rafters. Distance from Kaudiyala to Rishikesh is 35 kms. The stretch of this Rafting point is Kaudiyala to NIM beach Rishikesh. It put you strength and stamina till 1-4 hours. This Rafting area is meant for well trained Rafters.
RAFTING GRADE IV
COST PER PERSON: 2500/-
Approx time: 4-5 hours
Rapids: Double trouble, club house and golf course.
WHAT ARE GRADES IN RIVER RAFTING?
GRADE I RAPIDS: ( EASY, SMALL WAVES, GOOD RAPIDS)
These are among the most popular in river rafting Grade I is most appropriate option for the beginners it is very easy and can be done with the family. It is easy and safest among all, small area is covered in less time.
GRADE II RAPIDS: ( LITTLE DIFFICULT WITH EASY MOVEMENT)
The shivpuri point of Rishikesh Rafting is categorized under Grade I and Grade II, these grades are average not easy or difficult. It need a little guidance from the experts. Rafts passes through slightly rocky and uneven regions in water.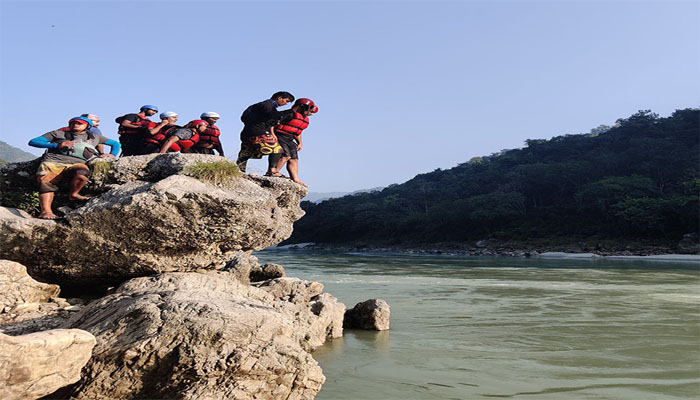 GRADE III RAPIDS: ( HARD, FAST WAVES)
This Rafting area comes under Grade III, that bring hard and challenging obstacles by including the Rapids of high and irregular waves and rocks. The real adventure and fun begins with the Grade III Rafting. In this Rafting Grade you will find irregular and big waves which need proper techniques and guidance.
GRADE IV RAPIDS: ( DIFFICULT, STRONG WAVES)
River Rafting grab more action and adventure while rafting in Grade IV rapids. It is the most challenging and sudden push of water waves, and these high waves can easily disbalance and topple the raft sometimes. Adventure seekers mostly prefer Grade IV Rafting, for more adventure and challenges.
LIST OF RAPIDS IN RISHIKESH RAFTING
Rapids are section of river where the water bed has a relatively excessive slope, causing an increase in water velocity and turbulence. Rapids are hydrological features between a smooth flowing water to a heavy running waterfall.
These are few Rapids under which Rafting is done, Increase in Grade of Rafting= Increase in Rapids of Rafting.
Black Money Rapid (Grade I)
Sweet Sixteen Rapid (Grade I)
Good Morning Rapid (Grade I)
Body Surfing (Grade I)
Club House Rapid (Grade II)
Double Trouble Rapid (Grade II)
Hilton Rapid (Grade II)
Shivpuri Rapid (Grade II+)
Cross Fire Rapid (Grade III)
Roller Coaster Rapid (Grade III)
The Great Wall Rapid (Grade IV)
SAFETY TIPS DURING RAFTING IN RISHIKESH
No doubt, Rafting is fun but at the same time, it is important to be aware and to be familiar to the risks involved during Rafting. No need to be serious! but being aware and taking some precautions you can enjoy Rafting more stress free and freely.
Being a water sport Rafting is a activity which should be done under proper guidance, rules & regulations. Under are mentioned some Do's and DONT's, which you have to keep in mind during Rafting, Following them properly will make your Rafting Experience more safe adventurous.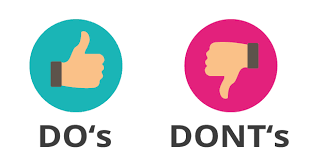 DO'S DURING RAFTING IN RISHIKESH
DRESS UP LIGHTLY: Dress occasionally! Wear clothes which are light in weight and are dry quickly. Also bring some extra pair of clothes along with you, because you will definitely need extra pair of cloth after Rafting.
WEAR A LIFE JACKET: As the name signifies 'life' jacket,it is most important shield for you during Rafting, don't compromise or take it for granted, it is mandatory to wear it during Rafting. Don't risk your life by not wearing it.
WEAR A HELMET: Wear helmet properly during Rafting, not only helmet wear all the equipments provided during Rafting to not face any risk during Rafting.
WEAR PROPER SHOES: Proper shoes are needed for Rafting to have grip on the raft as well as on the water. Strictly avoid wearing slippers, flip flops type of footwear, better wear sneakers or water shoes these are the best type of shoes for Rafting.
HELP YOUR FELLOW BACK: If somehow unintentionally your fellow rafter fall into the water, do try to pull him back into the raft, still even if you don't know him/her, don't ignore them try to help them.
PAY ATTENTION TO THE INSTRUCTOR: Instructors are the ones who are going you to guide properly to keep you safe during Rafting, pay attention to each and every precaution he asks you to follow and pay attention on. They are your mentor during rafting, they are experienced and know each and every danger which can cause during Rafting. Listen seriously!
RAFTING IS A TEAM WORK: During rafting they make a particular group on every raft, so that through team work the journey must go smooth, always follow the teammates never ignore or show attitude, or do things individually during Rafting, not following team can take you to danger and risk your life.
DON'Ts DURING RAFTING IN RISHIKESH
DO NOT STAND: During rafting do not stand on the raft, it can cause disbalance as well as it is risky to you and for the other teammates on the raft. You can fall by mistake, it can create danger for you.
DON'T DRINK: Do not drink or bring alcohol, beer etc during Rafting, as it will make you feel sleepy and drowsy, which is not good and is dangerous. It is very harmful for all.
DON'T BE OVER CONFIDENT: Being overconfident about you skills and showing heroic stunts during rafting, avoid doing so, it must be showoff to you but can be dangerous for other paddling the Raft.
AVOID UNWANTED PARTICLES: If you get to see Garbage or fallen branches of trees, do avoid that route and take a different one. Raft can face difficulty in these situations.
DO AVOID COTTON CLOTHES: As the weather and atmosphere feels windy and cold around water, wearing cotton clothes can catch you cold and fever. Wear wetsuits or woolen clothes during winters to keep you dry and warm.
DO NOT WEAR DAMAGED LIFE JACKET: During rafting keep attention that you must not wear damaged or oversized life jacket at any condition, it can risk you life.
DO NOT COMPROMISE WITH HEALTH SITUATIONS: Rafting is fun and adventurous but don't take health issues lightly, pregnant women, asthmatic patients, and heart patients are not allowed for rafting strictly. Injured or any kind of fractured injuries, or any other medical condition may avoid Rafting.
THINGS TO CARRY WHILE RAFTING IN RISHIKESH
Bathing suits, t-shirts and sandos.
Sunglasses, sunscreen, and antiseptic cream.
Sneaker shoes, swimming goggles.
Water proof bag for keeping safe your camera, gadgets and other important things.
Energy bars, energy drinks, and plastic zippers.
Towel, extra pair of undergarments, extra pair of clothes, and plastic bag to store the wet clothes.
Quick drying or swimming clothes, along with woolen clothes.
Extra batteries.
Use mosquito repellents and lotion before and after Rafting.
FAQ's (Frequently Asked Questions)
Q1- Is there any age restriction in Rafting in Rishikesh or it can be done by any age group?
Ans- Yes! There is age restriction for Rafting in Rishikesh, Below 14 years cannot do Rafting. Rafting can be enjoyed by 14-65 years age group peoples.
Q2- What is the best time for River Rafting In Rishikesh?
Ans- The best time for Rafting in Rishikesh is post monsoon (mid September) till early summers (May). For enjoying crystal clear white water Rafting November to March are the best months.
Q3- Is there any weight limit in river rafting?
Ans- Yes underweight and overweight tourists are not allowed for rafting due to safety reasons. The minimum weight for rafting is 45kgs and maximum weight should be not more than 100kgs for rafting.
Q4- What abou the mobile connectivity in the area?
Ans- The mobile connectivity in the whole area is verygood and all the mobile networks (Airtel, Vodafone, Idea, Bsnl) work well during rafting trip.
There are some few stretches where the network might be weak.