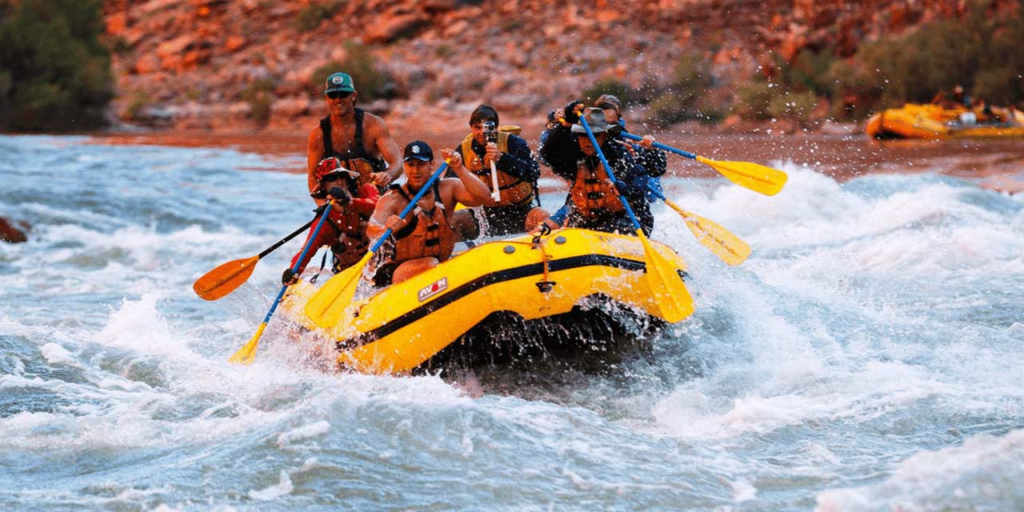 RIVER RAFTING IN RISHIKESH:
Adventure, is what everyone wants in their life, to challenge themselves, to come out of fear, and to prove that you're strong enough. You must have heard of many adventurous activities like Trekking, Camping, Bungee-jumping, hiking, paragliding and any more like this, one of them is Rafting.
Rafting is one of the most exciting and challenging activities nowadays which everyone is willing to do, Rafting is an outdoor activity, and a water sport which is not meant for adults only, it is a safe activity under guidance which can be enjoyed by any age group of people.
Rafting is very famous in every corner of world, and one of the place where Rafting is recently growing is Rishikesh, Adventure, and great outdoor experience begins in Rishikesh with Rafting.
Rishikesh is most popular town in India for Rafting, which fascinate thousands of adventure explorer's everytime. River rafting is one of the finest water sports in Rishikesh in the sacred water of Ganga river. Rafting is not only famous among the locals of Rishikesh or India, even the Foreigners come and enjoy the adventure and spirituality of Rishikesh.
Rafting in the holy water of Ganga river is the best experience you will remember for rest of your life. Rishikesh have different Rafting points from where you can start you Rafting according to the Grades of Rafting. Grades are meant for the tourists who love adventure and challenges, they can choose appropriately at what grade they want rafting choosing their expertise and preferences. To know more about River Rafting in Rishikesh click here.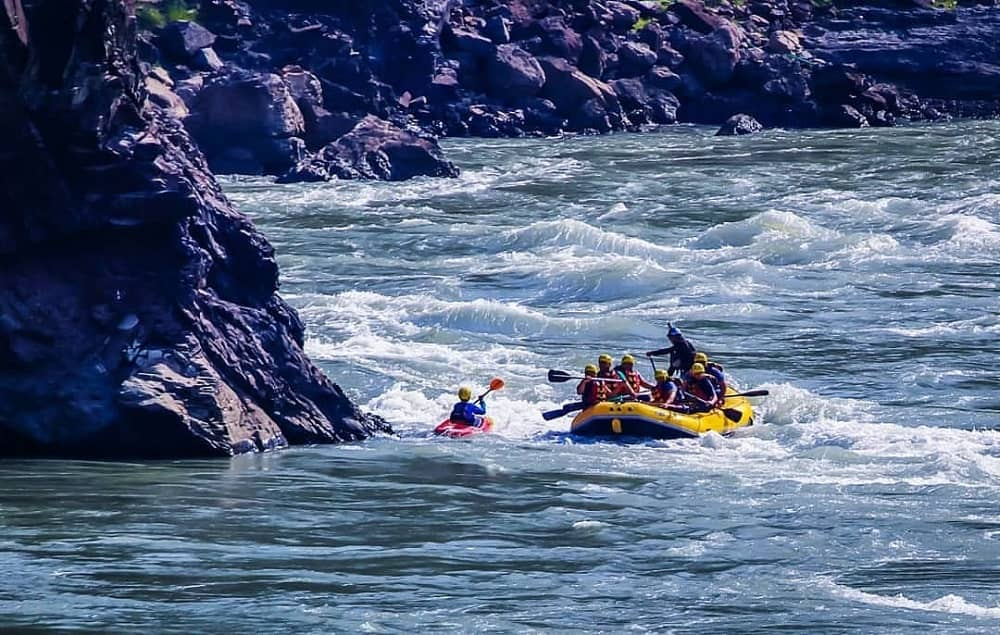 RISHIKESH RAFTING PACKAGE AND PRICE:
Rafting is a adventure sport, which is enjoyed by the youngsters these days, in Rishikesh Rafting packages are decided on the basis of Grades, the more the Grades, the more the amount. Rishikesh Rafting Packages starts from 999/- to 3000/- rupees, but some tour and travel companies provide you big offers and discounts. During rafting season you must book your rafting in advance through reputed adventure companies to get some discount, at that time the rush is high due to demand of Rafting activity in Rishikesh.
Rishikesh Rafting is done in IV grades:
BRAHMPURI TO RISHIKESH (9 KM)
GARDE I/ COST PER PERSON 600/-
SHIVPURI TO RISHIKESH (16 KM)
GRADE II/ COST PER PERSON 1000/-
MARINE DRIVE TO RISHIKESH ( 26 KM)
GRADE III/ COST PER PERSON 1500/-
KAUDIYALA TO RISHIKESH
GARDE 1V/ COST PER PERSON 2500/-
RISHIKESH RIVER RAFTING IS OPEN OR NOT?
Adventure and fun activities begins in Rishikesh with Rafting activities. It is a water sport activity which attracts thousands of Indians, and tourists every year.
Yes, Rafting is open in Rishikesh of state Uttarakhand. You can also check out the latest Travel Guidelines For Uttarakhand.
CAN WE VISIT RISHIKESH NOW?
Yes, you can visit Rishikesh any time of the year. But the best time to visit Rishikesh is Summers and Winters, because during monsoon River flow become more heavy, and the beautiful view of the river Ganga cannot be enjoyed.
And during the time of heavy rains, Rafting is also not allowed because it can risk your life, and is dangerous to perform this activity at that time.
But, if you want to visit Rishikesh, to explore the places out there, and to enjoy the mesmerizing view of surroundings you can definitely go and enjoy your visit.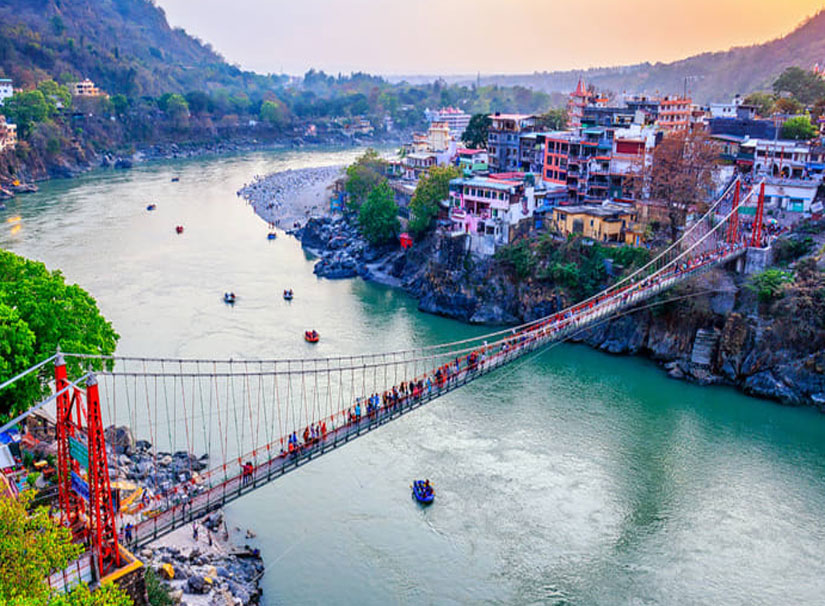 PLACES TO VISIT IN RISHIKESH:
There are many places you can visit in Rishikesh, and enjoy the beauty of this city. Rishikesh is known as "YOGA CAPITAL OF WORLD", and also the religious town of Uttarakhand. People come here to get some relief from the stress full life and the hustle and bustle of city life.
LAKSHMAN JHULA: Lakshman Jhula is an iron suspension bridge built over the holy river Ganga. It is a famous landmark place in Rishikesh, people visit here in large number.
RAM JHULA: Ram jhula is another famous landmark of Rishikesh, it is also a suspension bridge built over river Ganga. People here enjoy coming over here.
GANGA AARTI: Ganga aarti is a beautiful ritual of worshiping river Ganga, Lots of people take part in this aarti at Triveni Ghat. It happens at the evening time, people gather and take part in Aarti with full devotion and trust.
NEELKANTH MAHADEV TEMPLE: Neelkanth Mahadev Temple is a sacred shrine in Rishikesh located at 32 kms from the main town. Beautifully situated on a hill at a height of 1330 mtrs, Neelkanth Mahadev Temple is one of the most famous and known temples of Lord Shiva.
TRIVENI GHAT: Triveni Ghat is a holy Ghat in Rishikesh famous for the Ganga Aarti which is performed every evening. Triveni words means combination of two words tri(three) and Veni( confluence) of three. It is one of the most famous place in Rishikesh.
PARMARTH NIKETAN: It is one of the top Yoga centers of India, and the biggest area which is located near the bank of River Ganga. It is blown over 70 years of its existence into the largest ashrams in Rishikesh. This ashram was found in 1942 by Swami Shukdevanad Saraswati.
TERA MANZIL TEMPLE: Tera Manzil Temple is a famous spot for tourists in Rishikesh, situated on the banks of River Ganga, also known as Trimbakeshwar Temple. This sacred place has 13 storey and has sevral idols of Hindu Gods and Goddesses.
BEATLESS ASHRAM: In the residential alleys of Rishikesh, there is an ashram of late guru Maharishi Mahesh Yogi also known as the Beatles Ashram where the Fab-four attended a session of spiritual meditation. In this place English rock band composed over 50 songs during the time of there stay in 1968.
HOW SAFE IS RIVER RAFTING IN RISHIKESH?
River rafting in Rishikesh is totally safe and is performed under authorized companies. There are many authorized and certified river rafting companies and operators, those are experts in the field of water sports activity. Many instructors are available in Rishikesh to make your river rafting safe and full of fun and adventure. River rafting in the turbulent river Ganga is an experience that you will remember for the rest of your life.
HOW TO BOOK RIVER RAFTING IN RISHIKESH?
Booking river rafting is not a huge thing, there are many camps and tour and travel websites which helps you to book river rafting in Rishikesh. You just have to fill an online form or contact the organizers through Whatsaap/Call and share your requirement. You just have to google them and compare rates of different sites according to your interest. The organizer will shortly contact you with the required information. After booking you have to reach the camp, or to the place where the organizer will ask you to reach.
WHAT IS THE BEST TIME FOR RIVER RAFTING IN RISHIKESH?
Best time for Rafting in Rishikesh begins from post monsoon(mid- September) till early summers (May). For enjoying crystal clear water Rafting November to March is the best time. During monsoons, it is not advised to do river rafting in Rishikesh due to the heavy flow of river Ganga, and it can be also very dangerous and can also risk your life. The level at the time of monsoons in the river Ganga is unsafe for Rafting.
So, it is best to do river rafting in the winters and summers, as the water is silent and clear in these seasons.
WHAT IS AGE FOR RIVER RAFTING?
Children's above 14 years age are allowed for river rafting, and can go for adventure. This is the elder age limit but children's between 5-14 years can go on the kids distance of rafting that is 9km from Brahampuri to Rishikesh. Above 14 years any one can go for River Rafting in Rishikesh as it is done under supervision.
WHAT IS WHITE RIVER RAFTING?
Rafting in turbulent waters of River Ganga, white water Rafting is when we raft in the bubbly or aerated form of water in the river with high waves and unstable current. It appears white as it is bubbly in form hence the name is said as white water rafting.