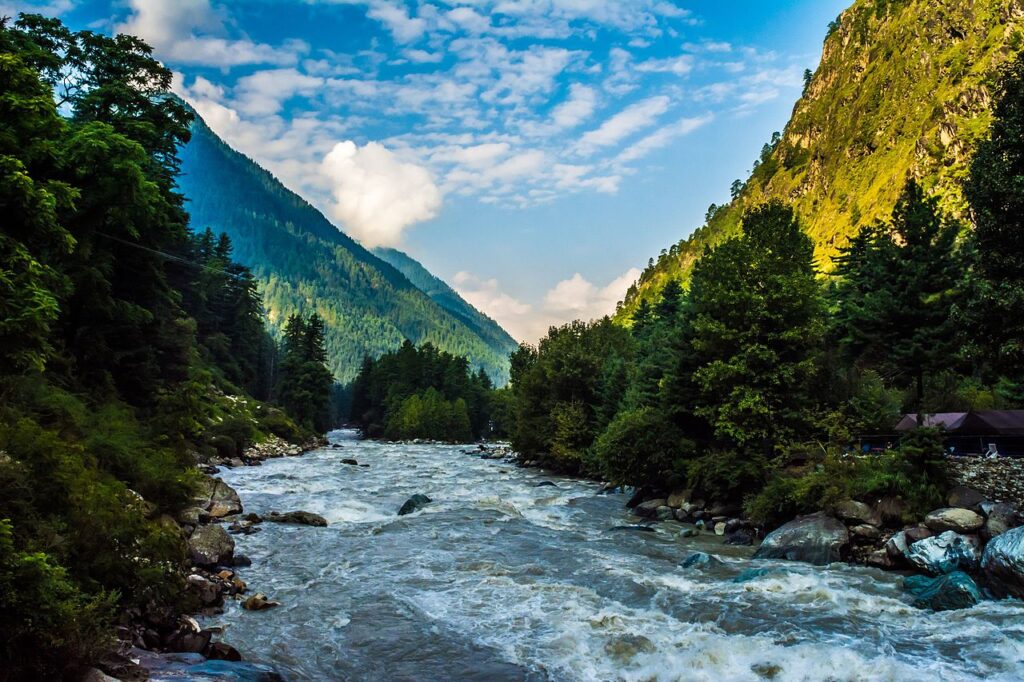 KASOL:
Kasol is a charming village in Himachal situated across the banks of the river Parvati. Mainly known as ' Amsterdam of India', Kasol is a tourist attraction that is quickly gaining fame as a popular spot for trekkers, backpackers, and nature lovers. Kasol is a village in the Kullu district of the Indian state of Himachal Pradesh.
Kasol is a ideal spot for the trekkers and trekking trails, which includes trek to KheerGanga, Yanker pass, Sar pass, and Pin Parbati Pass. To feel the nature and culture of this region, go on a visit to this village and explore the beauty from near.
Finding a destination that is beautiful, adventurous and available through the year, Kasol is the perfect stop. Kasol, Himachal Pradesh is very well known name in the travel community for being a amazing spot for the backpackers. The reason for being the favourite place among the adventure seekers is that it offers trekking, camping, rafting, sightseeing, parties, or seeking spiritual awakening, Kasol never upset the tourists who come here with full energy and enjoyment.
ACTIVITIES TO DO IN KASOL:
TREKKING: In Kasol, you can enjoy trekking, as it is an ideal spot for the trekkers. You can explore KheerGanga, Yanker pass, Sar pass, and many more places by trekking around Kasol. This place offers you places to explore, and is a favourite spot for the backpackers.
NATURE WALK: Kasol is a quaint hamlet, which is surrounded by nature's beauty, here you can enjoy some nature walks with your friends and family. Walking in the peaceful and calm surrounding it can reduce stress.
CAMPING: Camping in between the hilly mountains is one of the best experiences one could ever have in the lap of nature. Building-up tents or camps with friends or family under the dark night sky aids one to relax and refresh after a tiring day.
VILLAGE TOURISM: During a visit to Kasol, one can definitely explore the beautiful and silent villages located in between the nature's lap and can learn about their culture, work, and tradition.
PLACES TO VISIT IN KASOL: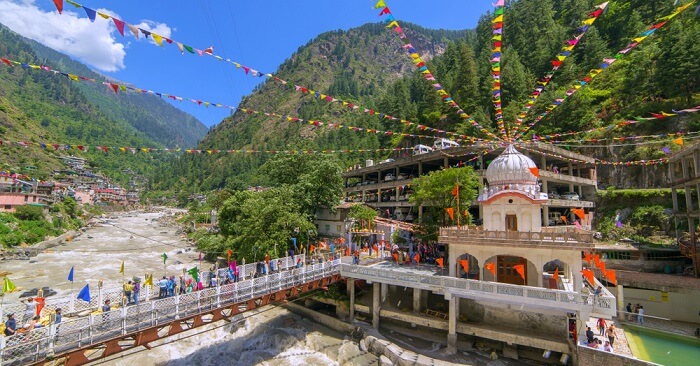 MANIKARAN SAHIB: Believed to be once visited by the first sikh guru , Guru Nanak, the Manikaran Sahib is one of the most respected pilgrimage site in Sikhism and is one of the best place to visit in Kasol.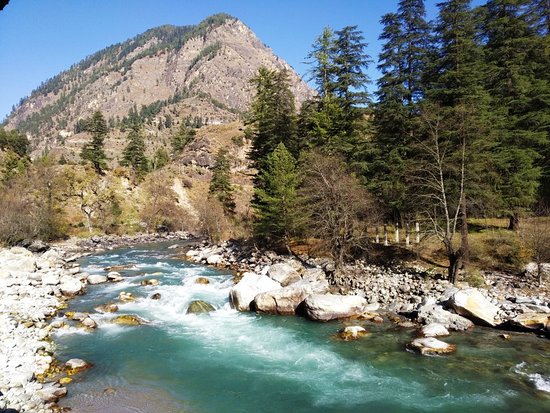 PARVATI RIVER: Emerging from the Man Talai Glacier, the calming and soothing waters of river Parvati is definitely one of the necessary Kasol attractions. You can try fishing while sun-basking with your legs half dipped into the river water.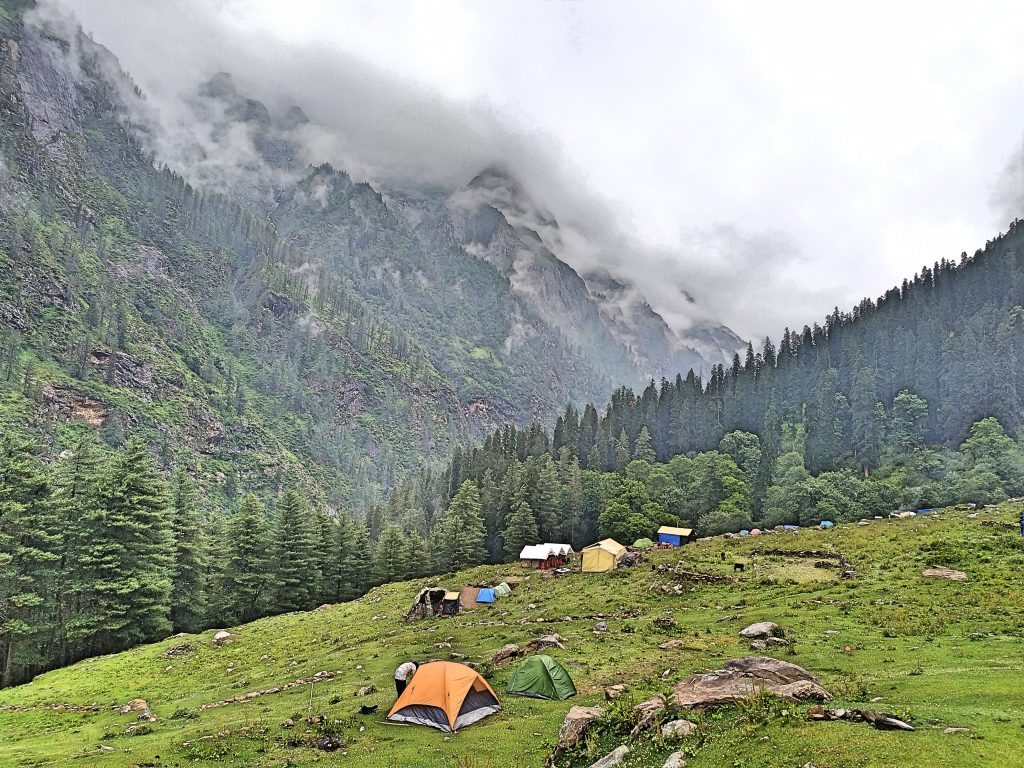 KHEER GANGA PEAK: Kheer Ganga, is one the best places to visit in Kasol, which show off the scenic beauty of the lush green hills and clear skies, it is located at the end of the Parvati Valley. For the beginners in trekking, this one is considered as one of the easy treks of Kasol.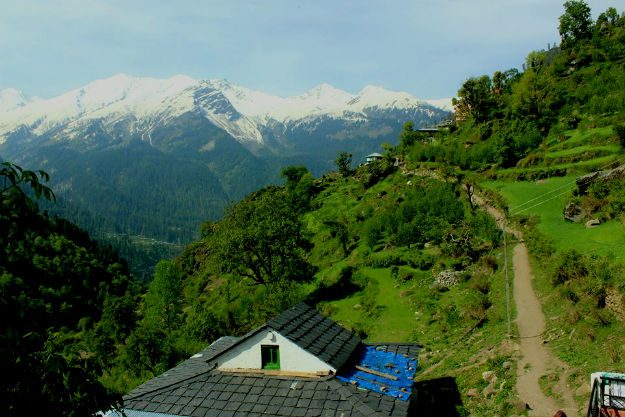 TOSH VILLAGE: Situated at an altitude of 2,400m above sea level. Tosh is a little village located on the banks of river Tosh. Located at the edge of Parvati Valley, Tosh is an bizarre destination in kasol that attracts a thousands of tourists every year across the country as well as from outside the country due to its attractive beauty.
MANIKARAN HOT SPRINGS: This place in Manikaran is must to visit as it is a geological wonder, full of boiling hot water that is rich in Uranium and radioactive substances. The water in it there is considered advantageous and said to have some healing properties for the human body that can heal skin and other disorders. There are mythologies attached to the spring that derive their origin from Hindu and Sikh religions.
MALANA VILLAGE: One of the aged villages in the region, Malana village is famous for its specific culture and the temple of Jamlu Devta. Malana is a small quaint village in Himachal Pradesh, has self isolated itself from the hustle and bustle of the world.
DETAILED ITINERARY FROM DELHI TO KASOL:
4 DAYS/ 3 NIGHT
DAY 0: DELHI- KASOL
On this day, we will move forward to reach Kasol from Delhi by Volvo. This will be the extra day for reaching Kasol from Delhi.
DAY 01: ARRIVAL AT KASOL: On your arrival in Kasol, check in to the pre booked hotel and relax for a while. In the afternoon , visit the Manikaran Sahib to soak in the divine aura of this spiritual destination and seek blessings at this sacred place.
In the evening, visit Chalal Village that is located at just 30 mintues of distance by foot. Delight in the jaw-dropping locales while hiking through the woods. The cafes en route Chalal are known for their lip-smacking cuisines and stunning views. Return to the hotel in the evening. Besides this, you can choose to camp in Chalal as well.
DAY 02: MANIKARAN SIGHTSEEING: In the morning, after breakfast, visit Gurudwara Manikaran Sahab which is place of worship for sikhs, with hot springs, valley views and food and lodging for travelers. Return back to the hotel and after sometime you can explore local cafes of Kasol and visit nearby market.
DAY 03: KASOL TO TOSH: After having breakfast in the morning, check-out from the hotel and proceed towards Tosh. This is another hippie town of Parvati Valley, which is famous for its camping sites and outdoor activities. You need to trek 1 km from the base to reach Tosh. You can explore the region and enjoy nature walks amidst the serene environs.
DAY O4: TOSH DEPARTURE: In the morning, you can explore nearby places and choose to visit Kalga or Pulga. Enjoy shopping in Tosh or in Kasol, which is known for hippie clothes and items. Afterwards leave Tosh for your going back to Delhi journey.
INCLUSIONS:
Hotel in Kasol
Hotel in Tosh
Accommodation on double sharing basis in well appointed rooms
Complimentary welcome Drink on Arrival.
Complimentary pickup and drop at bus stand.
Daily meals as per plans
Complementary use of wifi
24 hours running hot and cold water.
Child below five years Complementary sharing parents bed.
Early check-in and late check-out subjected to availability
EXCLUSIONS:
Anything not mentioned in inclusion list and any personal expenses.
5 % GST
Meals during Transportation
Any kind of expenses due to change in Itinerary
Unscheduled or extended due to road blocks, landslides
Any entry fee
PAYMENT CONDITION:
30% at the time of booking and remaining balance prior to before arrival.