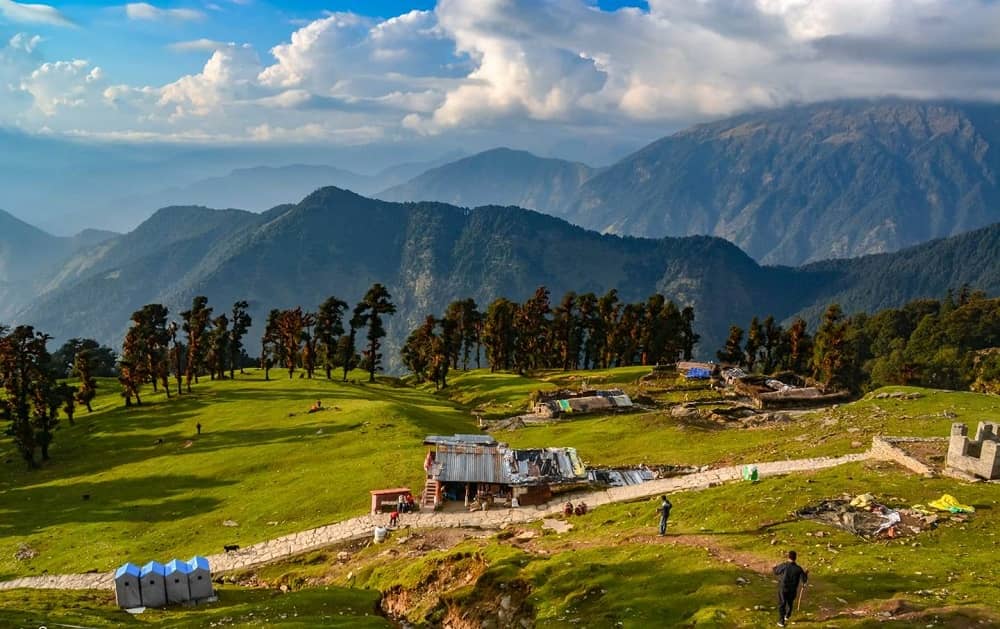 Chopta is an attractive hamlet which is still unfamiliar and unheard by tourists and backpackers, it is also known and is famous as 'mini Switzerland of Uttarakhand'. Waking up with cool healthy breeze and beautiful sound of birds chirping in Chopta, which is far from the hustle and bustle of daily busy life.
Chopta is a hill station, where the rising sun kisses the snow-capped Himalayas, and these snow mountains look like of gold. This calm habitat is enclosed by the pines, deodars, rhododendrons and other trees that can be found in this region, which makes Chopta wealthy in Flora and Fauna.
PRICES:
| | |
| --- | --- |
| FROM | PRICE |
| Rishikesh to Chopta | 7500/- |
| Delhi to Chopta | 9000/- |
| Chopta to Chopta Trek | 4500/- |
PRICE TABLE
INCLUSIONS:
Accommodation(Guest house, Home stay, Camping)
Meals while on trek (Veg+egg)
Trek equipments: Sleeping bag, Mattress, tent (twin sharing), kitchen & dinning tent, toilet tent, utensils and crampon (if required).
All necessary permits and entry fees
First aid medical kits and oxygen cylinder
Mountaineering qualified & professional trek leader, guide, cook and support staff
Porters/mules to carry central equipment
Transport Haridwar to Sari and Chopta to Haridwar.
EXCLUSIONS:
Any kind of personal expenses
food during the transit
Insurance
Any kind of emergency evacuation charges
Mules or porter to carry personal backpack
Anything not specifically mentioned under the head.
SHORT ITINERARY:
DAY1: Drive Haridwar-saari
Day2: Trek to Deoriatal
DAY3: Deoriatal to Baniyakund through Rohini Bugyal
DAY4: Baniyakund to Tungnath, Chandrashilla Summit and back to Baniyakund
DAY5: Baniyakund to Haridwar (drive 7 hours)
Beautifully garnished in between the classical velvety grasslands, Chopta provide the base for trekking to Tungnath and Chandeashilla, the third holy temple among the five (panch kedars). This untouched destination is nestled in the lap of the great Himalayas, providing an outstanding view of Trishul, Nanda Devi and Chaukhamba peaks.
Chopta has become the spot for the adventure and peace seekers, this enthusiastic beauty of this place is highlighted by the evergreen forests which is a part of Kedarnath wildlife sanctuary.
The Chopta- Tungnath- Chandrashila trek is very popular among the nature lovers and trekkers as it takes you through meadows and covers some of the best views of nature and surroundings.
This region of Chopta- Tungnath- Chandrashila are covered with snow at the time of winters. If you visit this place during Dec-Feb, you may get to see heavy snowfall and enjoy trekking in snow, but the roads are usually blocked near chopta during heavy snowfall.
ACTIVITIES TO DO IN CHOPTA
TREKKING: The trek route to Chandrashila begins at Chopta and involves easy to medium grade of trekking. The thrilling trek take some way through meadows, quite village, and oak forests and trees. During winter the trek is covered in snow. You can also trek to Devariyatal, Bisurital, which include 4-5 days trekking journey in Chopta as well.
CAMPING IN CHOPTA: Located on the way to Tungnath, Chopta is an ideal spot to camp and enjoy in nature. This place offers you amazing experience to have with family, friends and loved ones, surrounded in the lap of nature.
BIRD WATCHING IN CHOPTA: Chopta has a great forest range which has hundreds of different species of bird. Bird watchers from all over the world can visit to Chopta and explore bird watching. Best season for bird watching is from Feb-April.
YOGA AND MEDITATION IN CHOPTA: Being surrounded by peaceful environment, lush green grasslands, hypnotizing Himalayan view in Chopta enhance the urge to meditate and do Yoga in Chopta. Many foreigners visit Chopta for Yoga and Meditation as Rishikesh gets over-crowded sometimes.
PLACES TO VISIT IN CHOPTA
As Chopta is an ideal place of trek, for the adventurous souls, there is not more sightseeing at this place. Visit to Tungnath temple is always a reward for the tourists. At an altitude of 3,800 mts, it is observed as the highest Lord Shiva shrine in the World. Devotees visiting Char Dham's tend to visit Tungnath to present and seek blessings from Lord Shiva.
There are some places to go during a visit to Chopta, where tourists can spend their relaxing time. Explore the hidden spots in Chopta and plan your visit accordingly.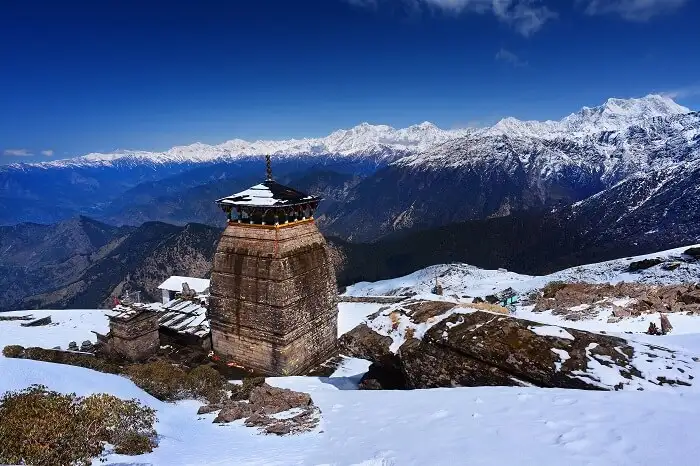 TUNGNATH: Tungnath is peacefully enriched on the Chandranath Parvat, is the highest Lord Shiva Temple in the world and the highest Panch Kedar in Uttarakhand.
It is Tritya kedar among the panch kedar's, it is located at an elevation of 3,680 meters above sea level and is appraised to be more than 1,000 years old.
Tungnath Temple can be reached easily by a moderate trek (easy) of 3.5 kms starting from Chopta (2700 mtrs). This region experiences heavy snowfall during winters making the trek to Tungnath tough to access.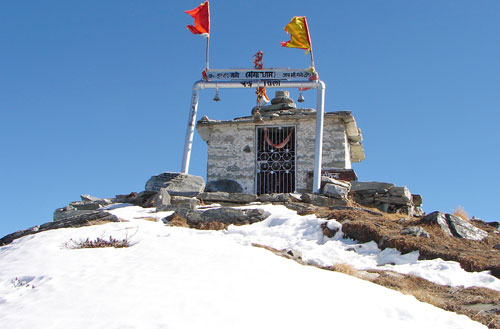 CHANDRASHILA TREK: Chandrashila is humbly seated at an altitude of 4,000 meters about 13,000 feet above sea level. Travelers like to begin the exciting Chandrashilla trek that can be completed by a short distance of 1.5km from Tungnath. Even so, the base camp fot this trek is Chopta.
Chandrashila trek is one of the famous trek in Uttarakhand that can be done throughout the year, but during winters the trek path is covered under the snow sometimes.
This trek is a treat for the tired souls who are in search of peace and calm.
According to mythology Lord Lakshman the younger brother of Lord Rama meditated in the Chandrashila Temple.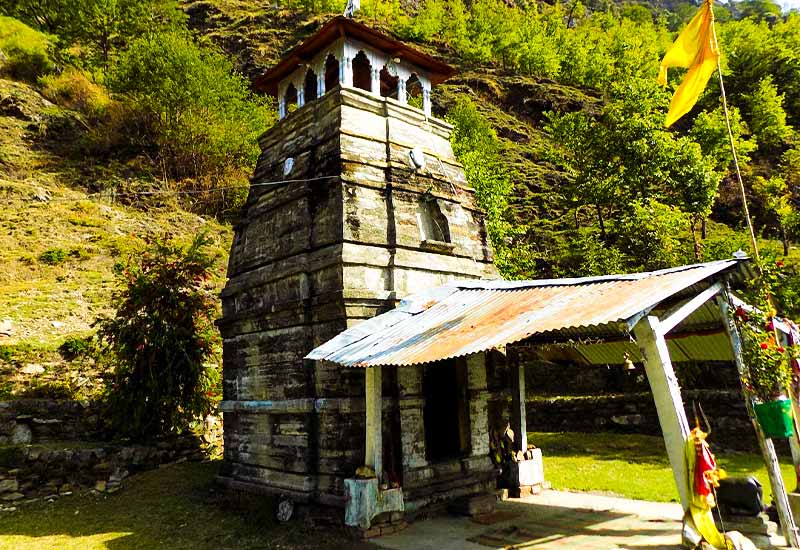 OMKAR RATNESHWAR MAHADEV TEMPLE: Omkar Ratneshwar Mahadev or Devariya Nag Temple is dedicated to Nag Devta which is situated on the way to Deoria Tal from Saari Village.
This temple can be reached by trekking 1km uphill from village Saari towards Devariya Tal. The temples architecture is similar to the others such as Kedarnath and Tungnath in term of mandap and garbhgriha. Inside the holy place is a lingam with a copper coiled around which resembles a Naag (snake).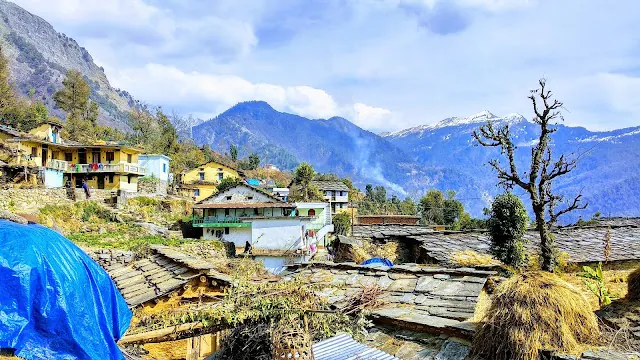 SARI VILLAGE: Situated at an elevation of 2,000 mts, Sari Village is a scenery located at a distance of about 20kms before Chopta hill station.
The village is covered by oak and rhododendron trees and lives calmly in the nature's lap of the Himalayas. Saari village is the base camp for a very beautiful lake Deorial Tal which is around 2.5 kilometers away from here.
During the time of heavy snowfall Chopta is closed at that time you can get hotels and homestays in Saari village for your stay.
Instead of finishing your tour at chopta, you must take out a little time to explore the amazing charm of Saari Vilage.
DEORIA TAL: Devariyatal is a forest lake located at a height of 2438 mts above the sea level. During early mornings on a clear day, Deoria tal adorn the tourists with miraculous reflection of Chaukhamba peaks on its crystal clear water.
Deorital is easy trek for begginers, one can extend their trek to Bisuri Tal, Chopta and Rohini Bugyal and also to Tungnath and Chandrashila.
Beauty of this attractive lake fascinate many visitors to come and make nostalgic memories and experiences here.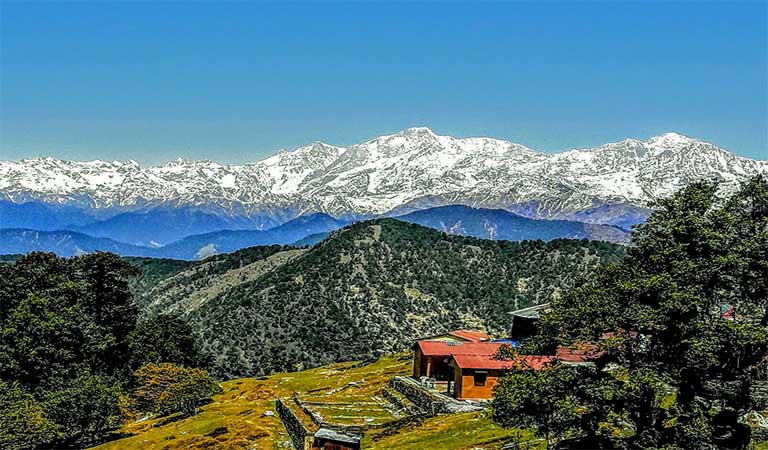 UKHIMATH: Ukhimath is located at an elevation of 1317 mts above sea level in Rudraprayag district of Uttarakhand state. Ukhimath is also noted as okhimath sometimes.
Ukhimath is mainly occupied by the Rawal's who are pundit's of Kedarnath. Surrounded by the Himalayas, the tiny region of Ukhimath is the perfect place for the travellers who are in the find of peace and spirituality.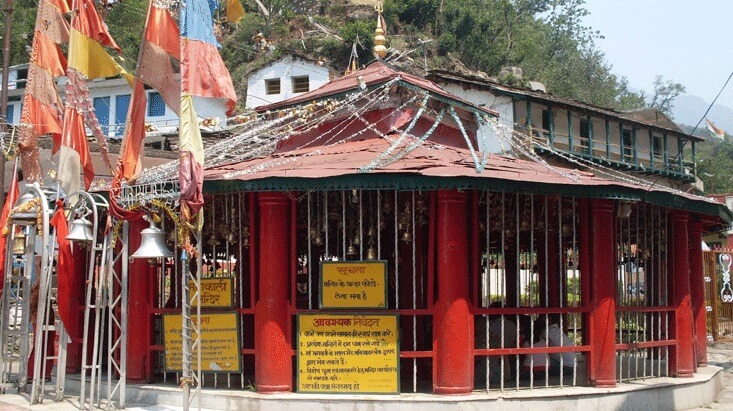 KALIMATH: Kalimath is a religious place situated on the banks of Saraswati River in Rudraprayag district. Situated at a height of 1800 mtr, kalimath is one of the 108 Shakti Peeth's in India.
Kalimath lies in the lap of nature providing divine and amazing environment.
According to mythology it is believed that after killing demon Raktbeej, Goddess Kali went beneath the ground at this place.
A second believed theory is that lower part of goddess Kali worshiped in Kalimath temple and upper part in Dhari devi temple near Srinagar.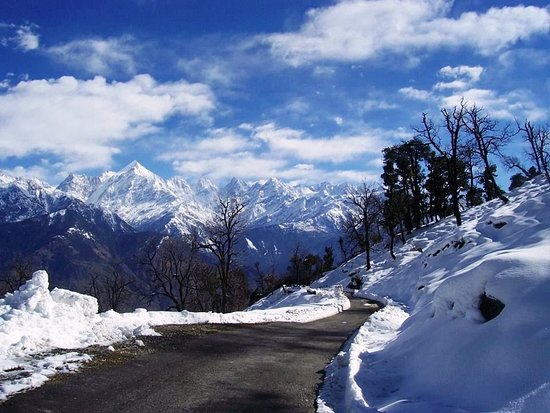 DUGALBITTA: Nestled in the attractive land of Chopta, Dugalbitta is a small village which is an stop for travelers coming to Chopta or Char Dham.
It is located at an height of 2600 meters and recently revolve itself into a perfect gateway for the tourists.
Dugal Bitta means a area or location between two mountains.
It is very eco-sensitive zone currently camping and permanent construction is banned here to save its unique natural shape and style.
You can enjoy bird watching, jungle walk, photography, trekking and hiking, in this place.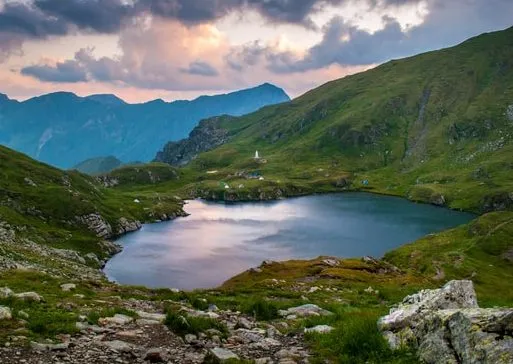 BISURITAL: The bisurital can be reached by trekking 60 kms (both side). The trek to Bisurital provides a glimpse of lush green forests, river streams, waterfalls, alpine grasslands, and mountain wildlife.
Situated at a height of 4000 meters, Bisurital is a high elevated lake perched in the Mandakini valley. This lake is located near Chopta and is one of the hidden and untouched trekking destination of Uttarakhand.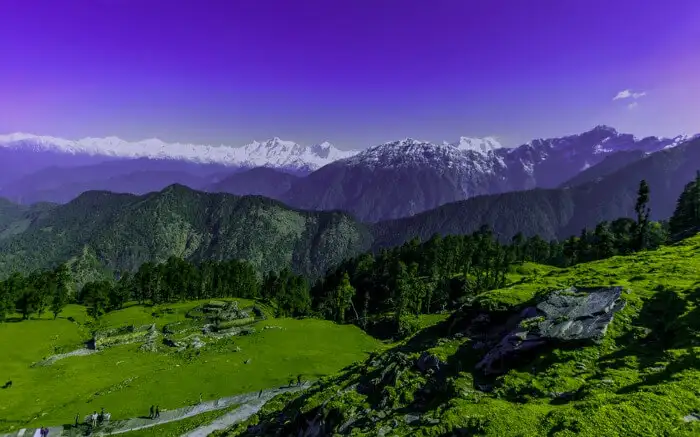 ROHINI BUGYAL: Rohini bugyal is a serene grass land hidden in the dense forest of Chopta Valley. On the trek to Chandrashila peak via Deoria Tal, Rohini Bugyal serves as a best spot for camping.
The hiking way to Rohini Bugyal remains covered with red and pink Rhododendron flowers during the time of march & April. This is one the finest campsites you will ever come across, and the one and only sound you're going to hear in these dense forest grassland is chirping of birds and clear water streams passing through the mountains.
BEST TIME TO VISIT CHOPTA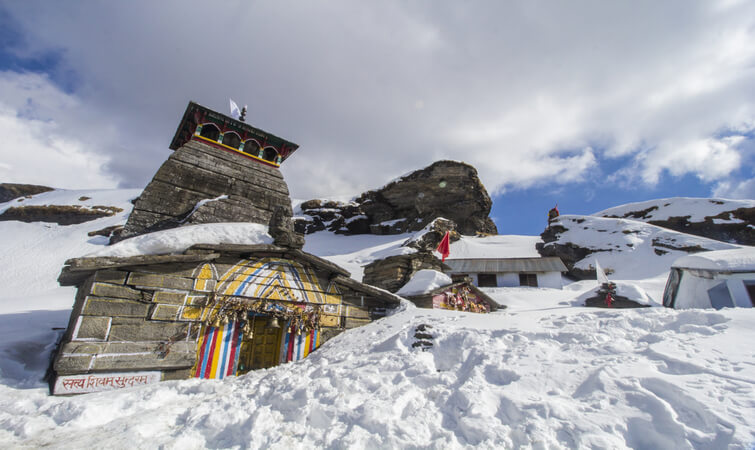 The best and ideal time for doing the Chopta-Tungnath-Chandrashila trek is from April to June and September to November., when the weather is amazing and pleasant and the skies are almost clear.
During winter season, the whole region is covered in snow, and the trek becomes more difficult and challenging. It is good to be well prepared and equipped before trekking, as the weather is unpredictable and can change any time at high altitudes.
It's better to Chopta trek during good weather conditions, so it must not get hard for you to reach your destination and enjoy your valuable moments.