The True Thrill of Adventure can be experienced in Rishikesh. It is one of the best destinations for Rafting and Camping in India with different varieties of Camping experiences to choose from. As Local Tour Operators from Rishikesh, we have listed some of the best Rishikesh Rafting and Camping Packages In Shivpuri Rishikesh and also a detailed itinerary about the Camping in Rishikesh.
Rishikesh is just 4-5 hr away from Delhi, Apart from being a spiritual city It is one of the top destinations for Outdoor Activities Lovers. You can Add Rafting, Trekking, Bungee-Jumping, Zipline Across Ganges, Cycling, Para-Gliding, and many more adventure activities To your itinerary.
Get the Prices of the Camps by calling us at 9041764158/9812597039.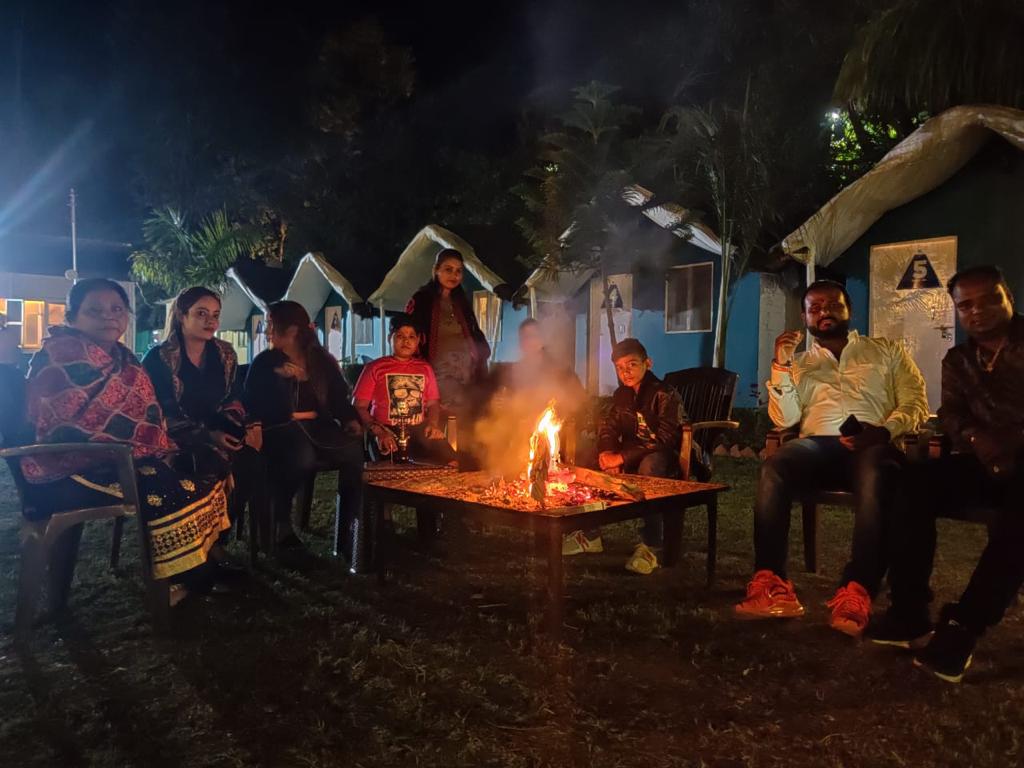 Top Rafting and Camping Packages
| | | | |
| --- | --- | --- | --- |
| Camp | Camp Type | Only Stay (1 Day and Night) | With Rafting |
| Sompho Camp Tapovan | Budget-Friendly hill Camp | ₹ 1200 per Person | ₹ 1800 per Person |
| Paddler Zone Shivpuri | Camp with Swimming Pool | ₹ 1800 per Person | ₹ 2400 per Person |
| HideAway Camp | River Side Camp | ₹ 1400 per Person | ₹ 2200 per Person |
| HOA Camp Shivpuri | Luxury Camp with Pool | ₹ 2000 per Person | ₹ 2600 per Person |
| Aquaforest Camp | Luxury Camp with AC & Pool | ₹ 2500 per Person | ₹ 3000 per Person |
| Aspen Adventure Camp | Luxury Camp with AC & Pool | ₹ 2800 per Person | 3400 per Person |
Get the Prices of the Camps by calling us at 9041764158/9812597039.
Rafting in Rishikesh Prices
| | |
| --- | --- |
| Bhrampuri to NIM Beach (9 km,1-2 hrs) | Rs 600 p.p |
| Shivpuri to NIM Beach (16 km,3-4 hrs) | Rs 1000 p.p |
| Marine Drive to NIM Beach (27 km, 4-5 hrs) | Rs 1500 p.p |
| Kaudiyala to NIM Beach (34 Km, Day trip) | Rs 2500 p.p |
Rishikesh River Rafting Prices
Best Time To Do Camping in Rishikesh
Rishikesh is open for camping year-round for tourists but it is recommended to avoid monsoon due to heavy rainfall and landslides. The best season to do camping in Rishikesh is between September to February because of pleasant weather and at that time Rishikesh is less crowded as compared to the Summer season.
Camping in Rishikesh
Duration: 1 Night/2 Days
Meals Included: 3 Meals and 1 Evening Snacks
The ideal duration for camping in Rishikesh is 1 Night and 2 Days, it is the perfect getaway from the busy urban lives where you can do adventure activities, play some sport, swim, trek, and do many more activities.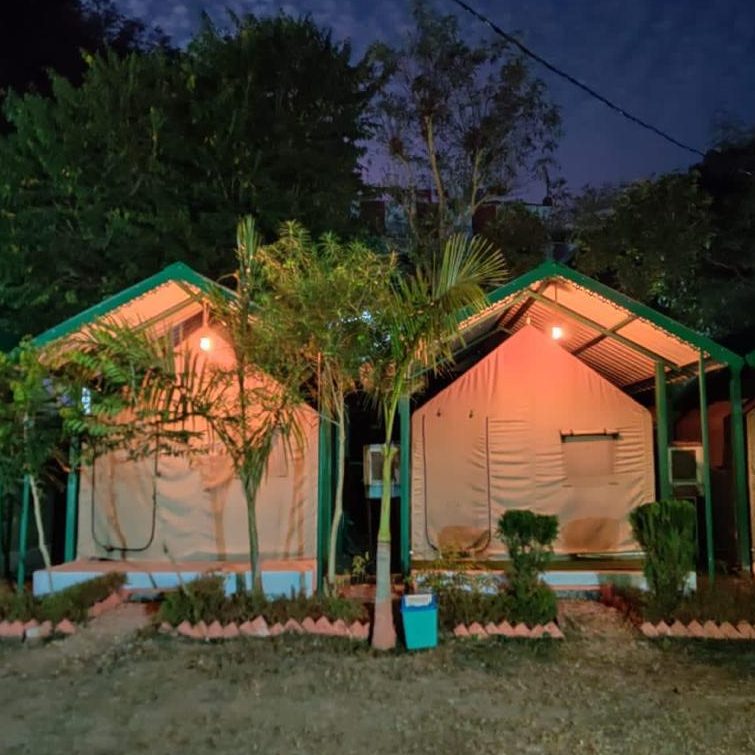 Day Wise Itenary For Camping in Rishikesh
Day 0:Day of Departure
Start your journey to Rishikesh from your respective cities. From Delhi, there are direct Government as well as Private Volvo buses to reach Rishikesh. It takes 5-6 hr to Reach Rishikesh from Delhi there are many alternatives from buses like train and by flight. The Nearest Airport to Rishikesh is Jolly Grant Airport Dehradun.
Day 1: Arrival at Camps in Rishikesh
From Rishikesh Bus Stand / Airport / Railway Station you have to book a cab/Taxi to reach your respective campsite. It usually takes half an hour to reach. Enjoy the sunset, have some evening tea & snacks, and make the best of the camping moments as you mingle with the people around.
Day2: Enjoy Activities in Rishikesh Camping
There are plenty of activities that you can do in Rishikesh like Rafting, Trekking, Jungle Safari, Bungee Jumping, and many more. You have to Check-out from camps at 11:00 am after having your breakfast.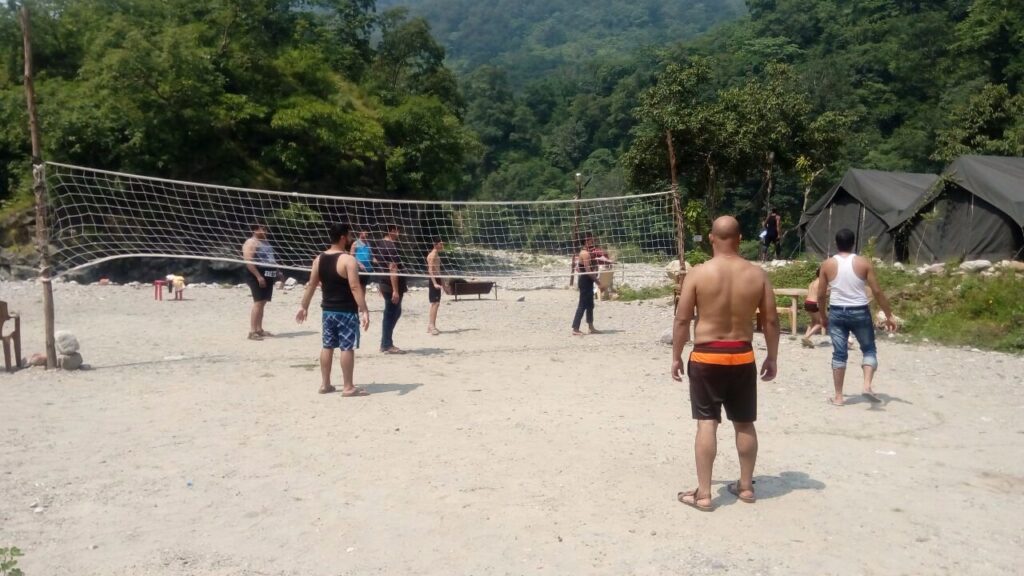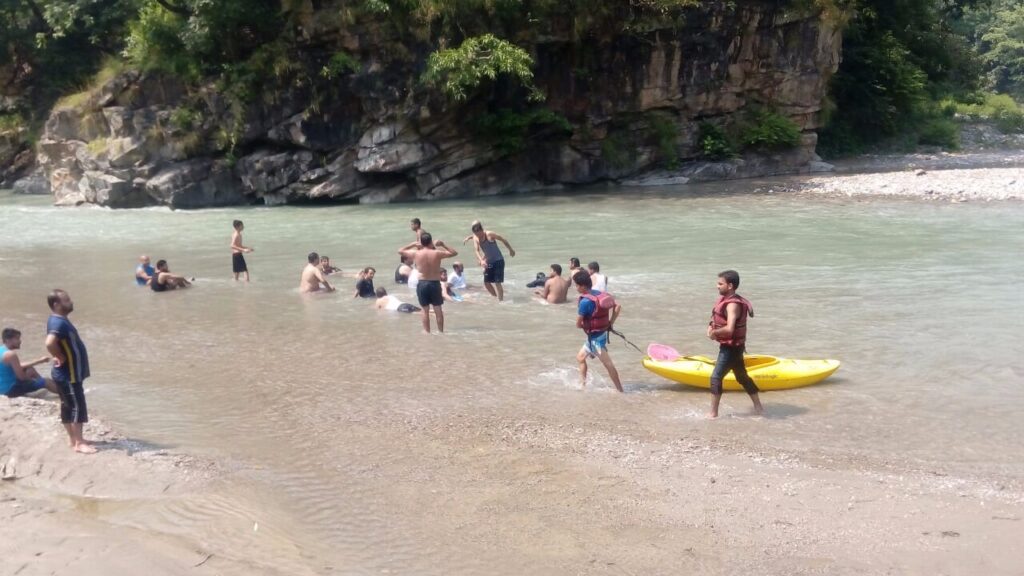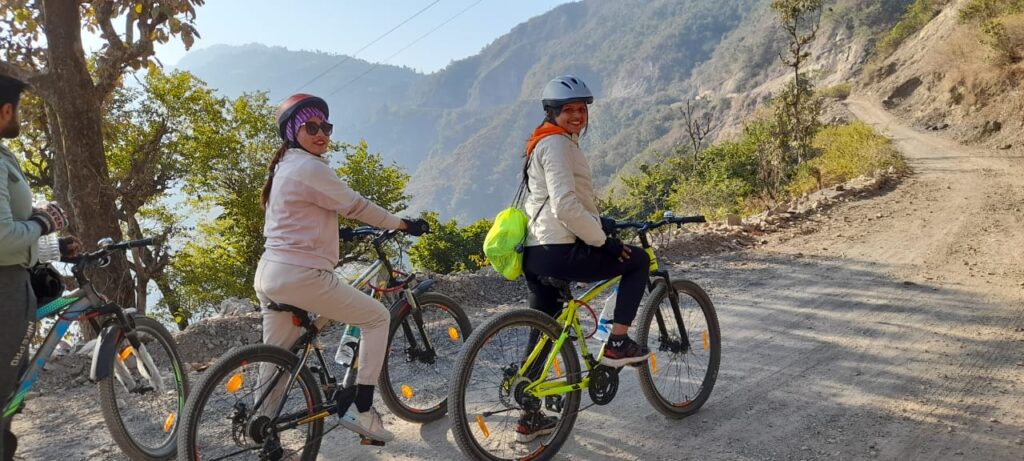 Activities You Can Do In Shivpuri Rishikesh
1. Sunrise Trek Rishikesh-
Kunjapuri Sunrise Trek Rishikesh is a downhill trek from Kunjapuri Temple which is the highest point of this trek. This place is also famous for its serene Sunrise view from the top. Kunjapuri temple is also one of the 52 sakthipeeth of Goddess Parvati in India and Nepal. Read More
2. Cycling in Rishikesh
You can also do Downhill Cycling Trek in Rishikesh from Kunjapuri Devi temple to Tapovan Via Neer Garh Waterfall. Read More
3. Explore Best Cafes in Rishikesh
Food in Rishikesh is a blend of different tastes all around the world, you can easily find Continental, Lebanese, Indian, Chinese, Israeli, and much more regional foods. Cafes in Rishikesh are the best places to explore the different cuisines in Rishikesh. Read More
4. Zipline in Rishikesh
Rishikesh is one of the top destinations for adventure activities, and one of the must to do activities is Zipline across the Ganga River. It is the only Zipline over the Ganga River. In this activity, the person is harnessed with the cable which is designed to propel down with gravity and reach the other side of the river and after that, the person is returned back with another cable. Read More
5. Bungee Jumping
If you want to experience some adrenaline-boosting experience then you must try Bungee Jumping in Rishikesh.
Starts from: ₹ 3500 Per Person
To Book, Your Bungee Jumping Session Call us at 9041764158/9812597039
Is it Safe to Do Rafting in Rishikesh?
White water river rafting in Rishikesh is an adventure activity and it has its own risks and dangers but if it is done responsibly then it is a safe and adrenaline-rushing activity. You must consider the following facts before entering your first Rafting trip.
Rafting company with professionals: It is one of the most important but underrated fact ,people tends to go for cheap rafting packages rather than considering their safety.There are many unprofessionals in the market that may lure with cheap prices but it is in your hands to make sure that you are going with an expert in your first trip.
Listening to Rafting Guide instructions Properly: Some people just ignore the instructions given by rafting guide at the time of briefing this can sometime lead to dangerous situation because river is full of uncertainity and literally anything can happen so listening carefully all the instructions given by guide is very important.
Wearing Loose Clothes.
Not Taking anything important during the trip: There is a dry bag where you can put only limited things like mobile phone or wallet so be careful about that to not take too many things to the trip.
What is included in the River Rafting Package ?
Transportation Include from our Tapovan office to the rafting starting point and endpoint to Tapovan office.
All class rafting gear Include like Rafts, Life Jackets, Helmets, Dry Bags, Paddle and the services with trained guides for rafts adventure activities.
River rafting activities include like River Rafting, Cliff Jumping and Body Surfing.
What is not included in the package?
Not Included any kind of personal expenses.
Not Include any kind of transportation beyond the trip route and place of stay.
Not Include evacuation (emergency) hospitalisation, Medical and rescue expenses.
Get the Prices of the Camps by calling us at 9041764158/9812597039.
Why Book Camping & Rafting from The Travel Boat
The Travel Boat is a company started by passionate travelers like you and years of experience make us different from other companies. We Give personal assistance to your trips and make sure you don't have to struggle with any difficulty during the most memorable times of your life.
F.A.Q About Rafting & Camping in Shivpuri
What is the Minimum Age for Rafting?
Children below the age of Five are not allowed to do Rafting. Children from 5 to 14 are allowed to go for Kids Stretch which is Bhrampuri to NIM Beach(9km).
What are the timings for Rafting in Rishikesh?
The first rafting trip starts from 9 am and you can book till 3 to 4 pm. As rafting usually ends after 5 pm.
What is the best time of year for Rafting in Rishikesh?
March to June is the best time for rafting because of the amazing weather and you can perform any sections.
How to Book For Rafting in Rishikesh?
You can either contact us directly on 9041764158/9812597039 or you can book from here.
What is the Best Time for Camping in Shivpuri Rishikesh?
Camping in Shivpuri operates year-round, but the best time to do camping in Shivpuri is between September to February.
What is Included in Camping in Rishikesh?
In Rishikesh Camping 3 Meals, 1 Evening Snacks, Accommodation, and Activities are Included.