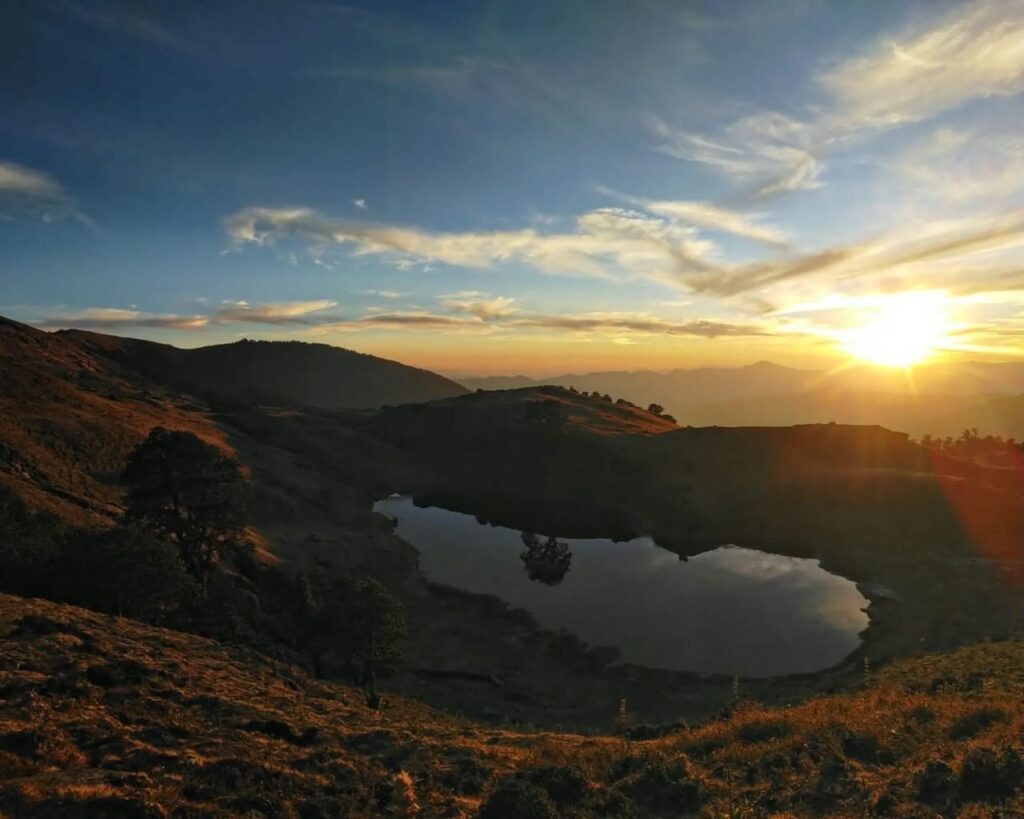 ABOUT BRAHMATAL TREK
Brahmatal is situated in the Chamoli district of state Uttarakhand, which is only accessible by trekking. Brahmatal trek offers a scenic view of the Majestic Himalayas with Mount Trishul and Nanda Ghunti, outlook of the amazing Roopkund Trek and enough opportunities to capture the majestic snow-topped peak with their camera.
Brahmatal is a famous winter trek, which takes one through beautiful valleys, peaceful hamlets, water streams, coniferous and oak forests. During winters, the area is covered with snow and offers a rare Himalayan view.
Brahmatal has a beautiful forest, two lakes and a meadow to walk through. The entire area is in snow during winters and famous for snow trekking and camping among travel enthusiasts. To photography enthusiasts, Brahmatal offers lot of mesmerizing view of nature to capture at its best.
One of the best views that Brahmatal trek offers is the magical colors during sunset. It looks like a golden hue which is a treat for eyes of the tourists.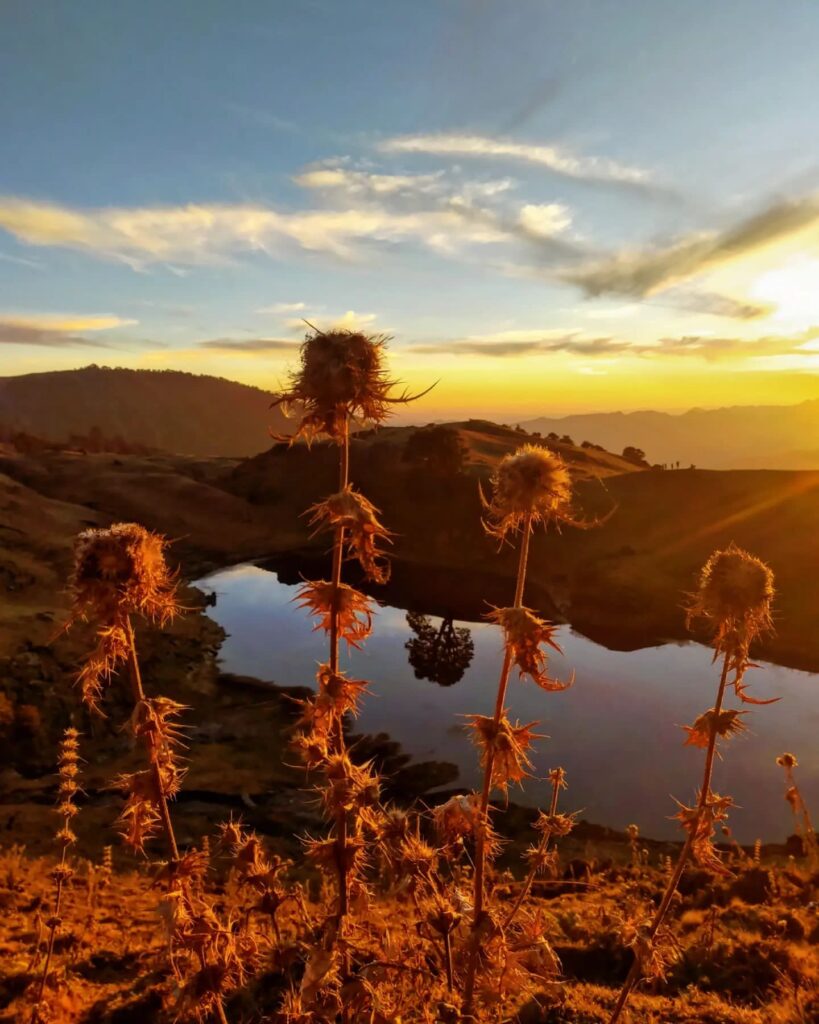 MYTHOLOGY ABOUT BRAHMATAL TREK
According to the Famous Hindu Mythology, the attractive Brahmatal is the place where creator, Lord Brahma did a serious atonement. It is said that Lord Brahma ji meditated here for several years. Hence, from then this place got its name.
WHAT IS BRAHMATAL FAMOUS FOR ?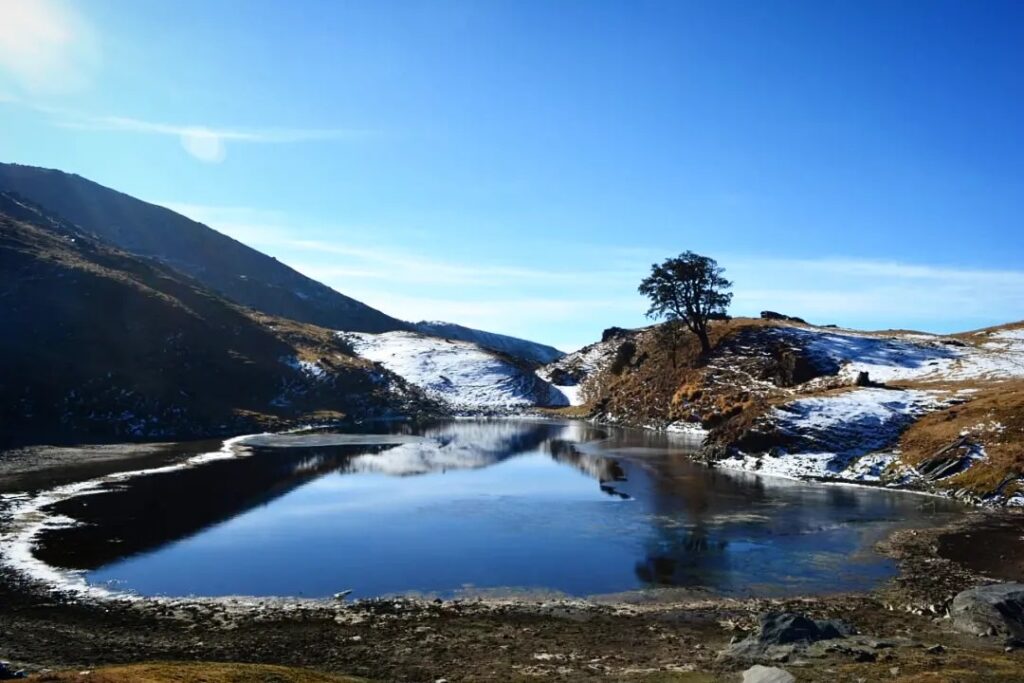 Brahmatal trek is mainly famous for trekking, among the trekking enthusiasts and the adventure lovers. And largely is famous as winter trek and high-altitude trek. Adventure seekers love to do this trek during winter seasons. As, in this region in winters snowfalls, and it become more adventurous for the travelers.
Brahmatal trek is also famous for camping, nature walks, and is a recommended destination for corporate groups, couples, foreigners, and also for solo trip.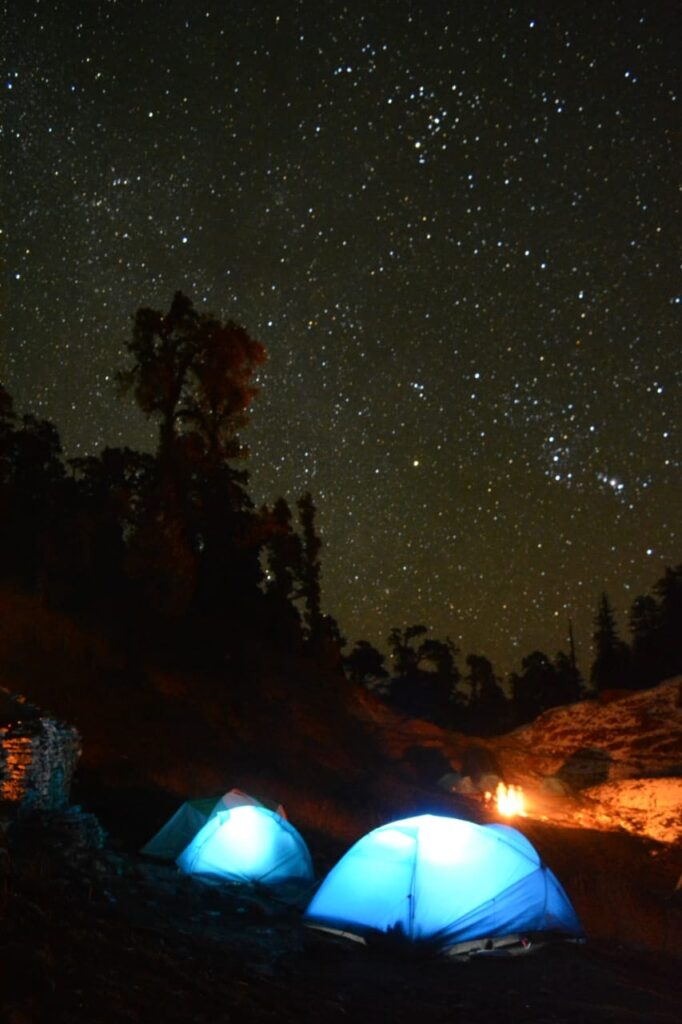 WHY BRAHMTAAL TREK?
This trek can be done by beginners as well as intermediate trekkers (dec-march)
While trekking witness a different terrain every day, from oak forest to high altitude meadow and a peak climb on summit day.
The main features of the trek are the beautiful trails with panoramic views of the Himalayas range. Peaks like Mount Trishul, mount Nanda ghunti, and Mount Mrigthoni.
One gets to witness beautiful frozen lakes- Bekaltal and Brahmtal. These high-altitude scenic lakes make this trek a must visit place if you are looking for trekking in winters.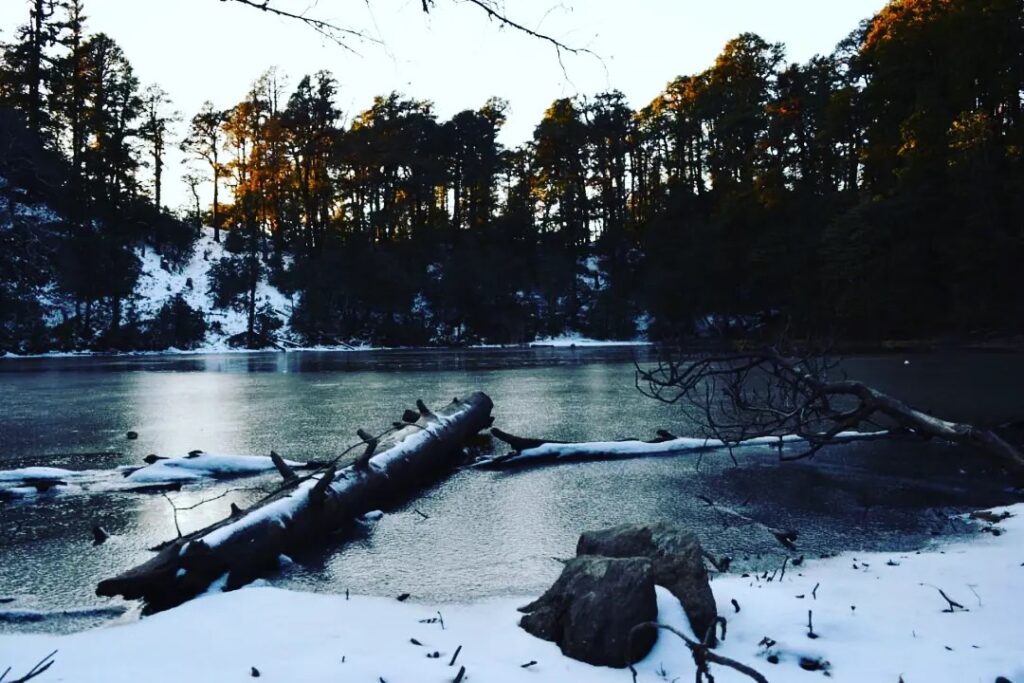 DETAILED ITINERARY FROM DEHRADUN-BRAHMATAL
DAY 01: DEHRADUN/ KATHGODAM TO LOHAJUNG:
> Pick up at 7:00 AM
> Drive to Lohajung
> Arrival by evening
> Breakfast and dinner at hotel
DAY 02: LOHAJUNG TO BEKALTAL:
> Morning, wake up at 7:00 AM
> Leave hotel/ homestay after breakfast
> 5.5 km trek to Bekaltal camp site
> Hot lunch at camp site
> Acclimatization exercise followed by tea
> Dinner and rest
DAY 03: BEKALTAL TO BRAHMATAL CAMP SITE:
> Morning, wake up at 7:00 am
> Leave, campsite after breakfast
> 6.5 km trek to base camp
> Packed lunch for the day. Arrival in Camp
> Acclimatization exercise followed by tea
> Dinner and rest
DAY 04: BRAHMATAL TO SUMMIT AND DESCEND TO DALDAM:
> Early morning, wake up at 6:00 AM
> Leave, for Summit at 7:00 AM after breakfast
> Packed lunch for the summit. You may carry chocolates/ dry fruits/ extra water this day
> Descend down to daldam camp from summit
> Evening refreshment at Camp site
> Dinner followed by rest
DAY 05: DALDAM TO LOHAJUNG:
> After breakfast, descend down to Lohajung
> Arrival by 2:00 PM
> Lunch at Lohajung followed by rest
DAY 06: LOHAJUNG TO DEHRADUN/ KATHGODAM:
> Early in the morning, wake up
> Drive back to Dehradun/ Kathgodam.
INCLUSIONS:
Accommodation in Hotel/ guest house at Lohajung on Day 1 and Day 5 (triple/quad sharing basis).
Accommodation in tents (triple sharing)
Meals: Veg only- breakfast, lunch, evening snacks, and dinner
Gears: Micro spikes and Gaiters as per snow conditions.
Experienced trek leader, guides and a very supportive staff
Forest permits
Medical Amenities- First aid kits, stretches, oximeter, oxygen cylinders
Sanitized and hygienic camp site and hotels.
EXCLUSION:
Anything not mentioned in inclusion list and any personal expenseS
. 5 % GST
. Meals during Transportation
Any kind of expenses due to change in Itinerary
Unscheduled or extended due to road blocks, landslides
Porter/ mule charges (personal), back pack offloading charges
Cost of Evacuation in case of emergency.
THINGS TO CARRY
RUCKSACK (Min 55 literes with rain cover): You must carry a good quality of backpack with a comfortable fit and fluffy straps that will not hurt or pain in your shoulders.
GLOVES: Insulated gloves helps your body and hands to keep warm. And it must also provide good grip during trekkers.
SUN CAP: A sun cap with side flaps and light weight is perfect to avoid you from sunburn and direct heat.
1 SCARF OR BALACLAVA: Along with sun rays you get hit by dirt and germs during trek which is why it's important to carry a scarf or balaclava to cover your face when needed.
LIP BALM: Lips can become dry, chapped, due to the cold weather during climbing, its important to keep them properly moisturizer.
COLD CREAM/ MOSTURIZER/SUNSCREEN(SPF40): To avoid sun burns and tanning, you need to put on sunscreen, and for making skin moisturized you need to put cold cream or moisturizer to keep it safe from dryness or roughness.
ANTIBACTERIAL POWDER: To avoid rashes from uncertain bacteria in your arm pits or other parts of the body.
WATER BOTTLE 1 LITER: Hydrating your body is most important, when it comes to trekking, so keep a water bottle of at least 1 liter, which you can re-fill in the water springs of the mountains during trekking.
FLOATERS OR SANDALS: Trekking requires a good quality of shoes, you still need to let your feet breathe to avoid chafing and blisters of feet, so when you camp at a stop during trekking carry good pair of sandals or floaters to move your feet freely.
TREKKING SHOES: Shoes for trekking must be good, comfortable, must provide ankle support, and also must have good grip. Shoes must be light weight but strong for trekking.
EXTRA CLOTHES: Carry extra warm clothes and quick drying clothes with yourself, as the trek will be of long distance, you need to be prepared before for everything.
TREKKING POLE: Trekking pole is important to provide stability and proper balance while walking and it saves energy also.
DOCUMENTS: Identification proof like Aadhar card, driving license, voter card, etc
EXTRA POLYTHENE: In case your clothes get wet or dirty, and don't get dry, you can carry them by packing in the polythene. Only, take care that the plastic you're carrying must leave with you, don't litter in the mountains.
CAMERA: This should be important. To capture every memorable moment and every trek you visit, it's important to capture all the moments in the camera, to remind them through pictures and to live the experience through them. Also bring extra batteries and storage.