AULI:
Auli is a beautiful hill station located at the Garhwal region of state Uttarakhand. It has rightly derived its name Auli- meaning meadows(fields), from the characteristics of its features. This hill station is situated in slopes and the green meadows attract eyes of the tourists.
Auli is full of natural resources, flora-fauna, wildflowers, trees like deodars, oaks, coniferous, pine forests, and much more. This place offers you a amazing view of Himalayan peaks like Nanda devi, Kamet, Dunagiri and Mana Parvat. The main center of attraction here for tourists is ropeway.
People visit Auli during snowfall, they enjoy the view of white blanket over the green meadows.
BEST TIME TO VISIT AULI:
No matter visiting Auli is always beautiful throughout the whole year, but as the destination is famously known for its skiing slopes and snow-topped mountains, so winter months November to March are the best to visit Auli, and enjoy the beautiful surroundings and adventure activities.
ACTIVITIES TO DO IN AULI:
SKIING: Most enjoyed activity in Auli is Skiing, which is done at the time of Winters, tourists indulge in these activities in large number. There are only a handful of ski resorts in India, Auli is one of them , which offers various activities and adventure to the tourists.
TREKKING AND CAMPING: There are few trekking options in Auli. Trekking is another fun activity for the tourists, who love to pack there bag and go for trekking in the mountains. The treks in Auli goes from large meadows, water streams, villages, green grass, etc. Trekking stretches are different some are long which takes more than a week , some are short that can be completed within one day: Auli-Gorson (7KM), Gorson-Tali (6KM), and Khulara-Tapovan (9km). You can enjoy camping along with trekking to these routes.
EXPLORE: Apart from adventure and thrill, you can spend your relaxing time by exploring Auli, Taking a nature walk will give you calm and peace. You can visit villages out there where you can learn the local culture, popular places and talk to the locals, and also breathe in the fresh air out there.
HISTORY OF AULI:
Auli means "BUGYAL" which in local language means meadows. The snow covered hill station of Auli was occupied by the semi-nomadic Bhotiya group and was a hub for trade and business. For generations, the Bhotia people used to trade on the barter (exchange) system with the neighboring country of Tibet (now a part of China).
The Bhotiya trade of people used to travel across on Horses and on foot to trade with Tibet and the nearby areas. They used ski slopes for training the soldiers, who used to perform in the ruling king's army. Later, these slopes were used to train and teach the forces of Indo-Tibetan border police and currently these slopes are converted to ski slopes for tourists.
PLACES TO VISIT IN AULI:
Auli is a very beautiful and famous travelling destination, where tourists come in a large number to enjoy there vacation or a random trip. Auli has few sightseeing options where you can visit if you come to Auli: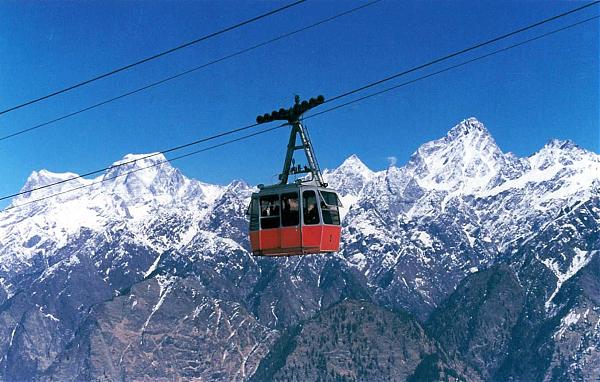 AULI ROPEWAY: Rope way of Auli is the main attraction for the tourists, it offers magnificent view of the majestic Himalayas. A longest and Highest ropeway in Asia after Gulmarg , Auli ropeway's cable covers a distance of 4 kms. Auli cable ropeway also locally called as Gandola and it also connects Auli with Joshimath.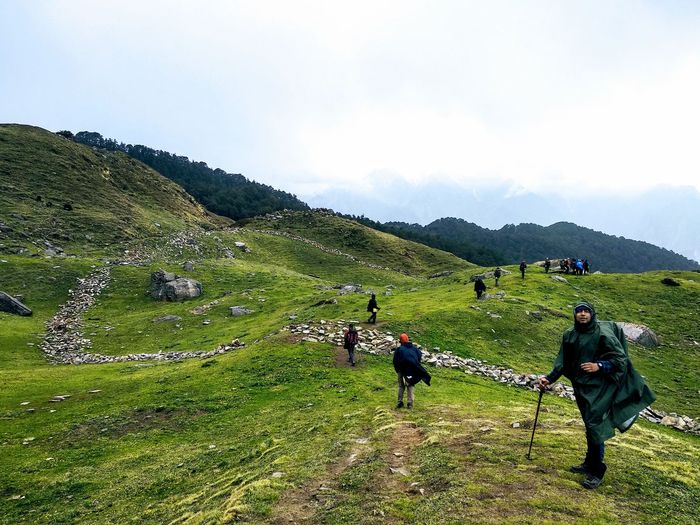 GORSON BUGYAL: Gurson Bugyal is situated at an altitude of 3056 mts, just 3 kms trek from Auli. It is a huge land of green grasslands surrounded by coniferous forests and oak trees. You can also trek towards Chattarkund, which is just 1 km away from Gurso Bugyal. Chattarkund is famous for its sweet water.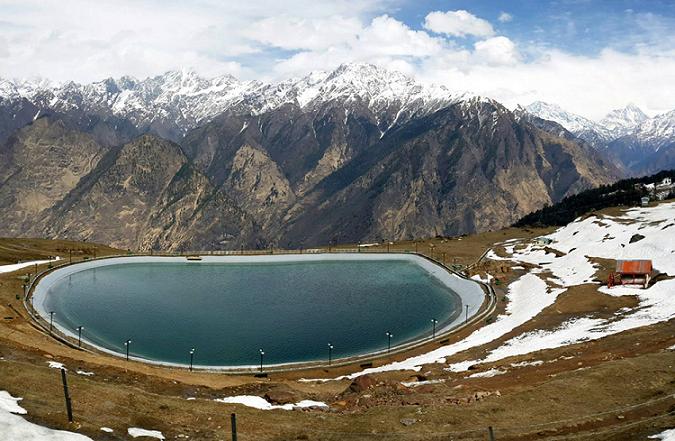 AULI ARTIFICIAL LAKE: Auli Artificial lake is a untouched lake located at an outstanding elevation. It is one of the World's highest man-made lakes. This lake was created by the Government to provide artificial snow on the ski slopes during minimal rainfall. The water of this lake is used to feed the snow stations along the ski slopes in order to provide a good surface for skiing. This beautiful and untouched lake has extended the ski season in Auli.
CHATTARKUND: Chattarkund is a small lake of crystal clear sweet water near Auli, Joshimath. Situated at an elevation of around 3300 mts above sea level, Chattarkund is surrounded by lush green dense forests.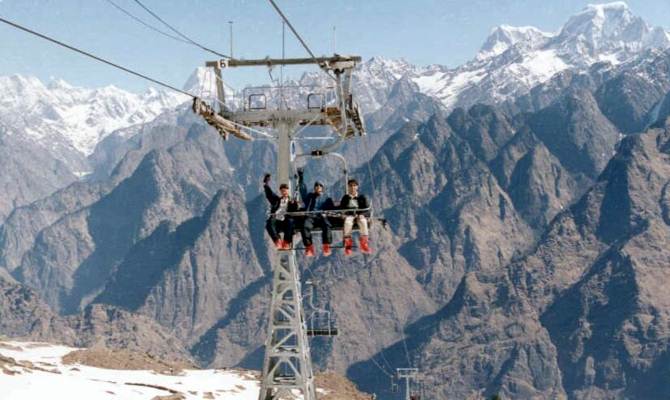 AULI CHAIR LIFT: Auli chair lifts connects Auli to the skiing slopes of Auli, It is one of the easy and best way to reach the skiing slopes if you are visiting Auli.
DETAILED ITINERARY FROM DELHI TO AULI:
04 DAYS/ 3 NIGHTS
DAY 0 : DRIVE FROM DELHI TO JOSHIMATH VIA RISHIKESH (517 KM, 12 HOURS):
The group will assemble at the pick-up point at 11 PM where a brief introduction by the team captain will be provided. En-route, we would be traversing through Haridwar and Rishikesh which are the two main sacred places for many pilgrims and are one of the few holiest cities in India.
NOTE: The pickup point would be Akshardham Metro Station.
DAY 01: JOSHIMATH ARRIVAL | LEISURE DAY:
En-route to Joshimath, we would be traversing the Badrinath road with picturesque view of the four confluence of the Ganga river, which includes Dev prayag, Rudra prayag, Karan prayag, and Nand prayag. All along the Alaknanda river would be flowing by your side making the otherwise long journey seem shorter.
Upon reaching Joshimath, we will check into our hotel. The rest of the day is at leisure.
Dinner followed by an overnight stay in Joshimath.
DAY 02: JOSHIMATH TO AULI ( 12 KM, 1 HOUR) | AULI SIGHTSEEING:
After early morning breakfast, we will head towards Auli which is a Himalayan Ski Resort overlooked by the Nanda Devi and Nar Parvat mountains. The second highest and longest ropeway in India after Gulmarg, the Auli Cable Car provides a breathtaking view of the surrounding mountains.
Travelers can indulge in winter sports like skiing, snowboarding, and more. (on personal expense)
Afterwards, we will head back to Joshimath and spend the rest of the leisure time there.
NOTE: Travelers who wish to go to Auli via cable cars or private cabs will have to vear the expenses themselves.
DAY 03: JOSHIMATH TO RISHIKESH (253 KM , 8 HOURS DRIVE) | DEPART TO DELHI:
After early morning breakfast, we will check out of our designated stays and head back to Rishikesh. We will arrive at Rishikesh in the evening and then will continue our return journey to Delhi.
DAY 04: DELHI ARRIVAL | TRIP ENDS:
We will reach Delhi by early morning. After that, the group will part ways with fond memories from the trip.
Trip Ends.
INCLUSIONS:
Hotel in JOSHIMATH
Accommodation on double sharing basis in well appointed rooms
Complimentary welcome Drink on Arrival.
Complimentary pickup and drop at bus stand.
Daily meals as per plans
Complementary use of wifi
24 hours running hot and cold water.
Child below five years Complementary sharing parents bed.
Early check-in and late check-out subjected to availability
EXCLUSIONS:
Anything not mentioned in inclusion list and any personal expenses.
5 % GST
Meals during Transportation
Any kind of expenses due to change in Itinerary
Unscheduled or extended due to road blocks, landslides
Any entry fee
PAYMENT CONDITION:
30% at the time of booking and remaining balance prior to before arrival.