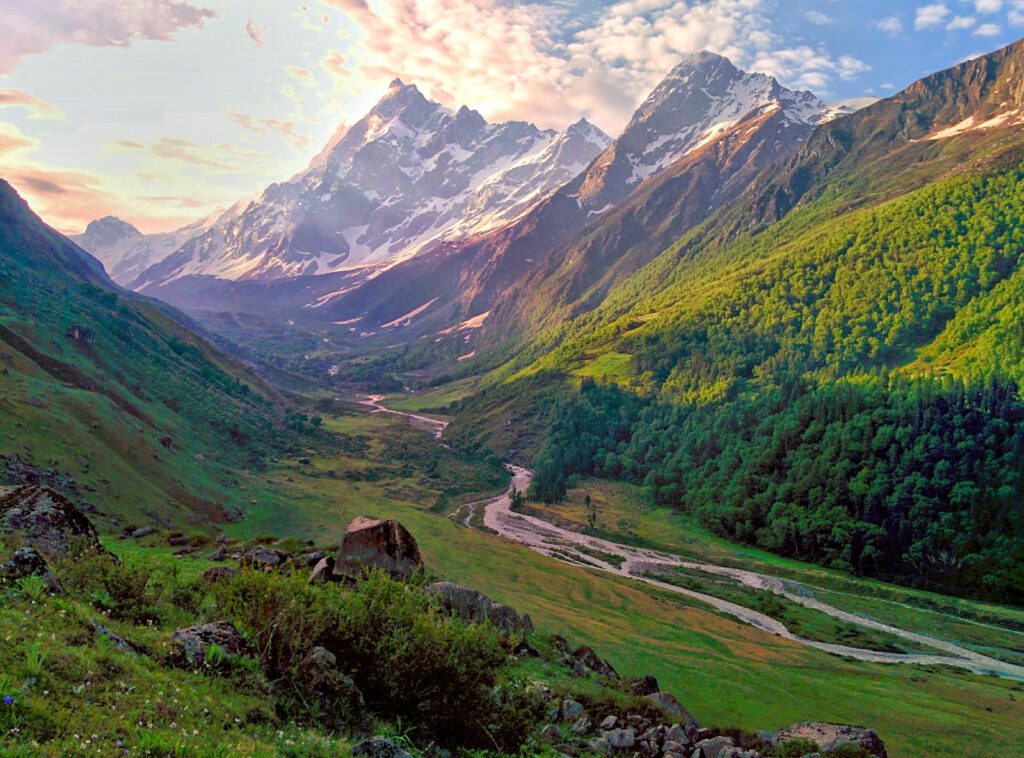 Uttarakhand is a state of innumerable treks, as it is a state which is surrounded by high mountains, grasslands, rivers, and full of nature's beauty. Among all the trek of Uttarakhand, one is 'HAR KI DUN' trek that is offbeat journey that offers you a treat to capture the view of unexplored Himalayas.
The name 'Har Ki Dun' accurately means 'Valley Of Gods' and looks like a cradle-shaped design elevated at 3,566 meters in the Govind Ballabh Pant National Park.
Known as different names like Har Ki Dhun, Har Ki Doon, and more, the trek attracts adventure seekers across the country. It is an ideal spot to watch the majestic Himalayan region. The valley is situated in Uttarkashi district of state Uttarakhand, and the catchment area performs to be a source of the Yamuna River System.
Passing through rough routes, Har Ki Dun is a 7-8 days trek journey that starts over from Sankri. Surrounded by snow-capped peaks and mountainous vegetation. Har-Ki-Dun is a beautiful and amazing trekking destination for the backpackers.
It is one of the unheard and untouched Valley which offers a spectacular view of Garhwal Himalayas.
| | |
| --- | --- |
| DAY | ITINERARY |
| DAY 1 | DEHRADUN TO SANKRI | START YOUR JOURNEY TOWARDS A HIMALAYAN PARADISE |
| DAY 2 | SANKRI TO PAUNI GARAAT VIA TALUKA | WITNESS STEP FARMING IN THE HIMALAYAS |
| DAY 3 | PAUNI GARAAT TO KALKATTIYADHAR | PASS BY A 300- YEAR- OLD VILLAGE |
| DAY 4 | KALKATTIYADHAR TO HAR KI DOON AND BACK TO KALKATTIYADHAR | DAY OF SUMMIT |
| DAY 5 | KAKATTIYADHAR TO PAUNI GARRAT VIA OSLA | RETREATING BACK |
| DAY 6 | PAUNI GARAAT TO SANKRI VIA TALUKA | LAST DAY OF TREKKING |
| DAY 7 | SANKRI TO DEHRADUN | SAYING GOODBYE TO THE MOUNTAINS |
SHORT ITINERARY
ABOUT HAR KI DUN TREK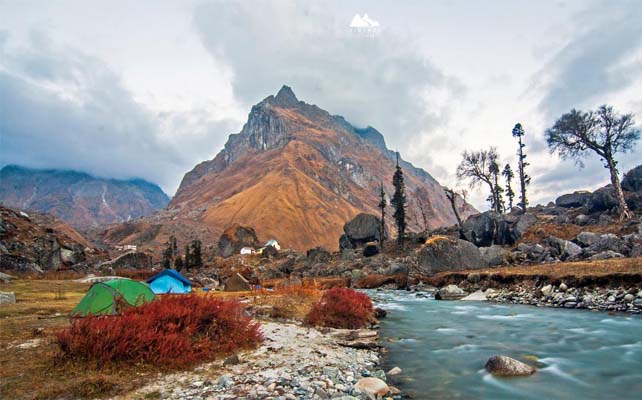 This trek is an easy graded trek, this trek pass from through few of the remote villages of India which are still untouched by civilization. The locals of this region are very loving and welcoming. The sheepman come to this region for months to feed their animals on the green grass.
One view at this beautiful valley and it feels like a painting on a canvas. The valley is snow covered from Dec-Mar, this trek of one week is one of the most amazing treks in Uttarakhand.
This trek starts from Sankri, dropping the majestic views of Himalayan peaks like Swargarohini, Kala Nag (black peak), Bandarpoonch and many more peaks.
Being a easy trek it still needs you to be physically fit for this trek. One can also hire donkey (mules) for carrying luggage in the trekking season.
| | |
| --- | --- |
| PRICE | 9999/- ONLY (PER HEAD) |
| DURATION | O7 DAYS/ 06 NIGHTS |
| LOCATION | HAR – KI – DUN |
| MAX ALTITUDE | 11,700 FT. |
| TRANSPORTATION | DEHRADUN TO DEHRADUN |
| ACTIVITIES | TREKKING,CAMPING, VILLAGE TOURISM, BIRD WATCHING AND PHOTOGRAPHY |
| GRADE | EASY TO MODERATE |
ACTIVITIES TO DO IN HAR KI DUN TREK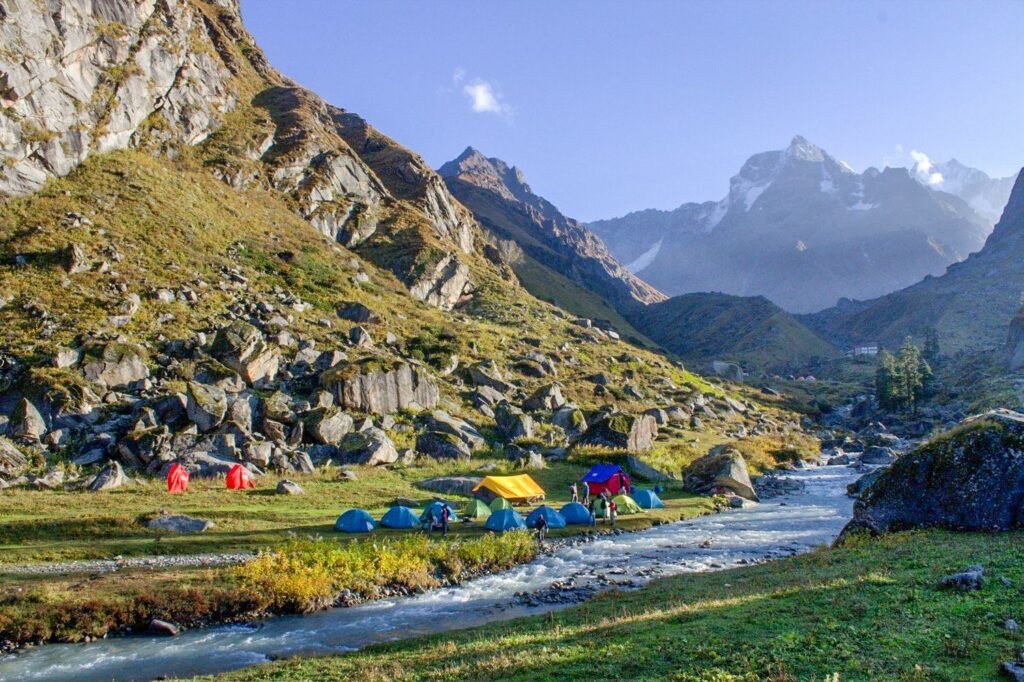 As Har-Ki-Dun is more a trekking route, so there are not much of sight-seeing available for the tourists. Adventure seekers will get to see much of the nature's beauty, one could move forward to trek 4 kms from Har-Ki-Dun to reach Jamdhar Glacier and Morinda Tal.
Along with trekking there are also some more activities you can enjoy and make your tour more memorable.
CAMPING: Camping in between the hilly mountains is one of the best experiences one could ever have in the lap of nature. Building-up tents or camps with friends or family under the dark night sky aids one to relax and refresh after a tiring day.
VILLAGE TOURISM: During a visit to Har-Ki-Dun, one can definitely explore the beautiful and silent villages such as Osla, Sankri, etc located in between the nature's lap and can learn about their culture, work, and tradition.
BIRD WATCHING & PHOTOGRAPHY: This place is best for the nature lovers, it is going to be a paradise for them. Including a wide range of Flora and Fauna, you can enjoy the calm and relax of watching the nature and beautiful chirping birds, and can also take photographs of stunning views in front of you.
PLACES TO VISIT NEAR HAR-KI-DUN TREK
Har-Ki-Dun is itself a tourist spot but it includes some nearby other places also where the travelers can spend their peaceful time. There are few sight-seeing options which you can and must visit during exploring the Har-Ki-Dun trek. There are some hidden gems, so you must plan your itinerary according to the list.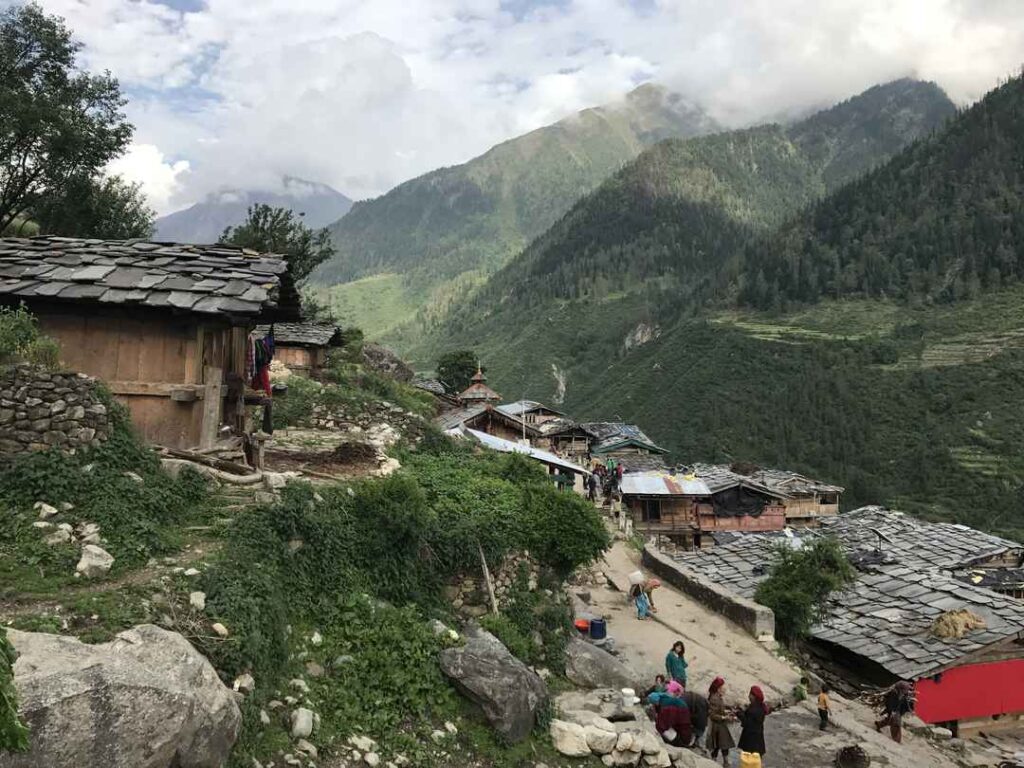 OSLA VILLAGE: On the route to Har-Ki-Dun trek which starts from Sankri, you will come over a small beautiful village, Osla. Situated at about 26 kms from Taluka and at an elevation of around 2590m, Osla village is snuggled at the sloped mountains and is surrounded by apple trees. The wooden houses of this village will attract you and grab your attention at first. It will rise your urge to explore this village more.
Cattle nurturing and farming are the main sources of livelihood in Osla village. The people of this village are self-sufficient, it also includes a temple Someshwar devta (temple dedicated to lord shiva).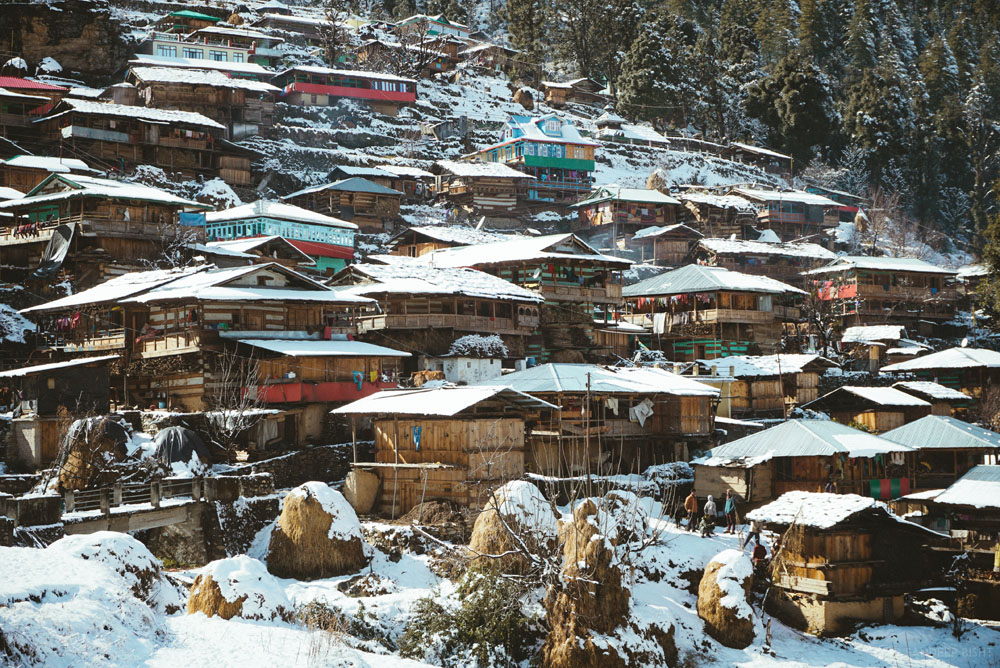 SANKRI: Sankri village in Uttarakhand state is a way to the heaven of Himalayas for every trekker. It is not just a village located in Uttarkashi but also a ideal spot for the trekkers.
The drive to Sankri from Dehradun is a 200 km ride of 7-8 hours. At Sankri you will not only find the great Himalayan valley of Uttarakhand but also will get a chance to know the local culture and have the experience of insight in the lives of the Himalayan peoples.
SANKRI ZIPLINE RIDE: Tourists these days need adventure in their trip, to make it memorable, now in Sankri range you can enjoy the zipline too! Zipline at Sankri or Saur village is the highest zipline of Uttarakhand in between the lap of Himalayas, which provide you full adventure and trilling experience.
Length of the Sankri zipline is about 700 meters. The zipline passes over the saur village which provides the magnificent flying view of Saur Village. This activity is managed and handled by professionals and guides, who properly know about the ride and are very experienced one.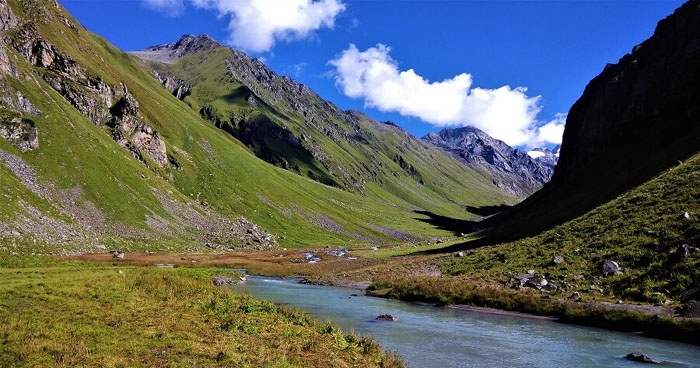 MARINDA TAL: Marinda tal as well as known as Morinda tal is a amazing and beautiful high altitude lake which can be explored after reaching Har-Ki-Dun valley. Marinda tal is situated at an altitude of about 3,970 mts, it offers mesmerizing view of Swargarohini Peak in the background.
In the best season, one can find the countless Brahma Kamal flowers all around the lake. This view offers a sense of peace and is also a ideal spot for photography lovers.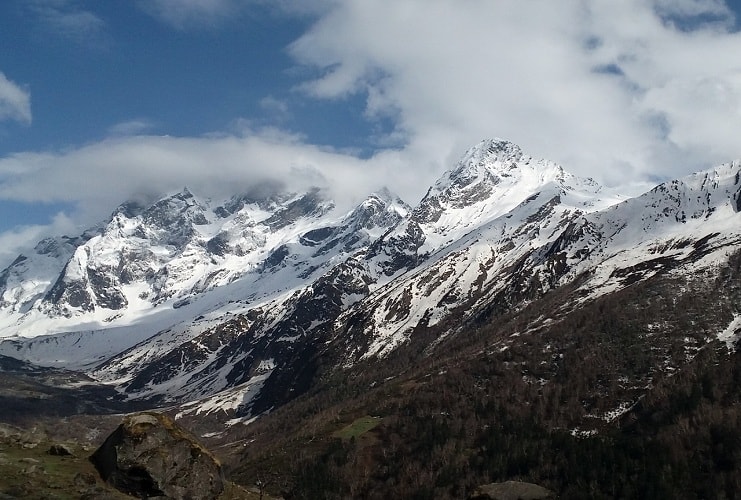 SWARGAROHINI PEAK: The laborious mountain of Swargarohini peaks is wraped at the Saraswati (Bandarpunch) range of Garhwal Himalayas. Swargarohini is also famed as 'The Way To Heaven' is situated in the Uttarkashi district of Uttarakhand state.
According to the mythological experts and Hindu scriptures, the brothers Pandvas travelled through Swargarohini to reach heaven. Though, only one Pandava brother that is Yudhishthira lead by a dog was able to make their ascent to heaven.
Hindus believe that Swargarohini is the only possible way by one can reach heaven in this human form.
HAR- KI- DUN TREK ITINERARY
DAY1: DEHRADUN TO SANKRI / START YOUR JOURNEY TOWARDS HEAVEN
220 km driven by Nh 507- approx. 10 hrs.
Altitude: 1,950 m/ 6,400 ft
Last ATM; Purola
Small shops are available for trekking equipments and needs.
BSNL network is uncertain.
Breakfast and lunch excluded, dinner included
Trekkers will be picked from Dehradun railway station at 6:30 am in a tempo traveller or similar vehicle.
Expected arrival in Sankri by 5:00 pm.
Stay: Guesthouse in Sankri.
The very first day begins with a 10-hours long drive from Dehradun to Sankri. You are wanted to reach DehradunRailway station by 6:430 am in the morning. To be on time you can book yourself a bus/train from Delhi to Dehradun ISBT.
Sankri is situated at a distance of 220 km away from Dehradun and it takes 10 hrs approx to reach and cover the distance.
Moving through Mussoorie- 'The Queen Of Hills' and the amazing kempty falls onto Uttarkashi district, we will then cross Naugaon, Purola, Mori, and Netwar before finally arriving our destination- village Sankri the first stop of the trek. The roads are all over attractive with pine tree forests, on both the sides of road that hook up on the parallel to the course of the river Tons. The scenery changes intensely after Mussoorie, Gorge forests are replaced with pine forests that carry a fresh smell of the pinewood in the air.
Stopping at a suitable hour, we will have lunch somewhere by the road at a hotel. By reaching Purola, you should finish your important calls and internet usage because from here, the network will get down. BSNL is the only effective service available in this area with limited providers.
The final distance to Sankri for about 20 km, the journey becomes extremely charming and beautiful. A short way before Sankri, we will cross the Govind National Park checkpoint and at 6 evening, the drive will end at Sankri. Sankri is a beautiful Himalayan village which serves a base camp for many Himalayan treks. This village offers many hypnotizing view of Mt. Swargarohini. If you are trekking in winter you can expect snowfall right from Sankri itself. After getting fresh at the guest house, you will get sufficient time to explore the close by market. Trekking equipments, garments, essentials, all are available at the market in Sankri, in case you need something for the trekking at the last-minute.
DAY2: SANKRI TO PAUNI GARAAT VIA TALUKA/ WITNESS STEP FARMING IN THE HIMALAYAS
Sankri to Taluka (drive): 12km, 1hr.
Altitude: Taluka- 2,200m/ 7,200 ft; Pauni Garrat- 2,500m/ 8,200 ft.
Trek distance: 10km/ duration: 5-6 hours
Altitude Gain: 550m/ 1,800 ft.
Trek Level: Easy level walk and gradual ascent in most parts
Packed lunch on the way
Springwater points
Riverside camping in Govind National Park
On day 2, we will start our drive from Sankri to Taluka at 7 in the morning. It is about 1 hour drive from Sankri and the drive will take you through moderately dense forests and streams cutting through the path.
Reaching Taluka, another village is located on the same lineage which is found on this trek, trekkers will be invited to take refreshments before starting the trek.
The first pause is a descent to the bank of beautiful river Tons, and keeping the river on the right, the sequence enters a level walkthrough forests of conifers until reaching the first cemented bridge. Around a 10 min walk you will spot first cemented bridge over a small mountain. Passing the trail leads to another wooden bridge within 15 minutes of trek. You can fill your water bottle here and move forward.
This whole way along the river is best for photography and provides you shade too. We greet the rest point for lunch by the Supin tributary that we cross before 1 in the afternoon. Moving forward, harvested fields of potatoes, millet, and maize will fall on the way giving the whole way a farm house feel. The lush green step farming of the Himalayan villages will amaze you completely. Pauni garaat, a green clearing on the banks of Supin is arrived late in the afternoon as the sunset begins.
DAY3: PAUNI GARAAT TO KALKATTIYADHAR/ PASS BY A 300-YEAR-OLD VILLAGE
Altitude: 3,000 m/ 9,850 ft
Trek: 8km/ duration: 5 to 6 hours
Altitude gain: 500 m/ 1,650 ft
Packed lunch
Springwater points
Trek level: Steeper ascent than last day, but well distributed in level walks and inclines.
Camp stay in forests overlooking mountains near a food stall.
Pauni Garrat to Kalkattiyadhar covers a distance of 8km over 6 hours which we start in the early morning at 6 am post breakfast. The path passes through dense coniferous forests that continue till the village Seema. Seema hamlet is a group of concrete structures and a forest department guest house set by the banks of the Supin river.
Osla village is situated on the other side of river. Seema bridge is a hanging bridge running over the Supin river with background of massive snow-topped mountains, this is an ideal point to take some beautiful pictures. You will also spot amaranth trees in the monsoon, the trees obtain a redish shade adding a contrast to the scenery. About half an hour on the trek it unroll a grand view of Mt. Bandarpoonch and Swargarohini group of mountains.
Osla hamlet has an interesting mythology established to it, it is believed that at ancient time, the osla village has a clan that was trustful and dedicated towards Duryodhan of the Kauravas's, they were so loyal to him that they build a temple dedicated to him, they worship Duryodhan in this village.
This village also have a 2000 years old temple Someshwar temple and few houses. From osla the trek become quite high and on this point of trek, you will get to see the fabulous viewpoints to take glimpse of the Dhauladhar range. Snaky trek to Borasu pass and Baspa Valley can also be done from here. The high trek wind calm down reaching a tabletop green stretch- Kalkattiyadhar.
Kalkattiyadhar is a beautiful and amazing open grass land that offers mesmerizing view of peaks like Bugyal Devsu and Mt. Black peak. On the left you will also have a view of Ruinsara range and the Kedarkantha summit.
Relaxing in the view, rest well and prepare for the next day mountaintop.
DAY4: KALKATTIYADHAR TO HAR KI DUN AND BACK TO KALKATTIYADHAR / DAY OF SUMMIT
Altitude: 3,600m/ 11,800 ft
Trek Distance: 10km/ Distance: 9 hrs
Packed lunch on the way
Springwater points
Trek level: relaxed forest walk combined with boulder walk. Mixed gradient with a gradual incline.
Camp stay in forest overlooking mountains near a food stall.
Snow peaks in view: Swargarohoni, Hata Peak, Black Peak.
Today, you will start early in comparison to other days as it is the longest day of trekking. We will begin the trek after breakfast. Mesmerizing view were until today, get ready for something more. This trail will take you into the glacier valley having moraines and alpine meadows, tall pine trees will welcome you at every step.
The trail starts out with an climbing above the convergence of the Supin river. From this point you will get to see beautiful view of mountains. The Har-Ki-Dun valley is a heavenly place displaying mesmerizing beauty in one sight. The hamlet is an amazing mixture of huge peaks, meadows, forest, glaciers moraines. The trek eventually leads to a point of 45-degree high, while it is not as steep but in the snow it become difficult. The last phase of the trek climbs alongside a river and through dense forests all the way to Har-Ki-Dun summit.
From the summit point, you can see heart-taking views of Swargarohini peak, Hata Peak, and Black Peak. After exploring the valley Har-Ki-Dun , creating memories and getting experience for lifetime we get back to our last campsite at Kalkattiyadhar.
DAY5: KALKATTIYADHAR TO PAUNI GARAAT VIA OSLA/ RETREATING BACK
Altitude: 2,500 m/ 8,200 ft.
Trek distance: 8km/ duration: 5 hrs
Altitude loss: 500 m/ 1,650 ft
Packed lunch
Springwater points
Riverside camping in Govind National Park.
From this point on the trek is actually the return journey. Today we shall take steps through the osla village to Pauni Garaat. You will get another chance to relive the moments with the peaceful villagers. Say goodbye to the peoples here and to the surroundings. Wake up early to catch a beautiful sunrise at Kallattiyadhar campsite. Follow the same trail and reach earlier the campsite of Pauni Garaat. The journey downhills is quite easy. Enjoy some last moments of the nightlife in Pauni Garaat, also you can explore the village Osla today as the trek is not much arduous or time taking. Spend the night at Pauni Garaat campsite.
DAY6: PAUNI GARAAT TO SANKRI VIA TALUKA/ LAST DAY OF TREKKING
Altitude: 1,950 m/ 6,400 ft
Trek distance: 10km/ duration: 5hrs
Drive distance: 12kms, 1 hr from Taluka to Sankri
Packed lunch
Springwater points
Guesthouse stay.
A 5-hour trek to Taluka sets off this morning, climbing down by the same trail, stopping at familiar rest points. After breakfast we begin the trek towards Taluka along the same way. Beware of 'bichu ghas' on the trail way. After a while of walking, you will find yourself next to the Supin River, the final distance goes until Taluka goes over a cemented trail. The car waits at the end of the road to drive back base camp. We will arrive at Sankri right at the time for tea.
DAY7: SANKRI TO DEHRADUN/ SAYING GOODBYE TO THE MOUNTAINS
Distance 220 km/ duration: 10 hrs approx.
Driving time: 7am-6pm
Breakfast and lunch excluded
You will be dropped at Dehradun station in a Tempo Traveller or a similar vehicle.
Today we say goodbye to the mountains with lots of memories and memorable experiences in our hearts. The journey completes with a 10-hours drive from Sankri to Dehradun. Reaching time at Dehradun station will be 6 pm, suitable for an overnight journey to Delhi.
INCLUSIONS
ACCOMMOODATION: 2 Nights in a homestay in Sankri on a triple sharing basis. 4 nights tented accommodation on a triple sharing basis.
TRANSPORTATION: Dehradun-Sankri-Dehradun by Sumo/ bolero/ tempo traveler ( depends on the number of travelers).
MEALS: All vegetarian meals from day 1st dinner to day 7th day breakfast.
SNACKS: Morning/Evening tea/coffee with light snacks and soup while on the trek.
CAMPING LOGISTICS: Tent, sleeping bags, mattresses, dining tent, toilet tent.
TREK LEADER: Qualified and experienced trek leader and support staff.
PERMITS: All necessary fees and permits.
TREKKING EQUIPMENT: Gaiters, micro spikes, and rope if required.
Safety Equipments: Basic first aid kit with oximeter and oxygen cylinder.
GUIDE RATIO: 1:10
EXCLUSIONS
Any expenses of personal nature.
Meals during transit.
Insurance of any kind.
Any fees and permits (for non-indians)
Unscheduled delay due to a landslide.
Cost Escalation due to "force majeure and evacuation charges"
Anything not mentioned explicitly in the above program.
CANCELLATION POLICY
No Cancellation will be taken over phone calls or WhatsApp messages. Please reply to the email of the payment receipt that you received at the time of booking regarding the cancellation.
Free Cancellation up to 45 days before the departure date. (booking amount is non-refundable)
44 Days to 30 days of departure date. 10% of the total trip cost along with the booking amount will be charged as a cancellation fee.
29 Days to 20 Days of departure date. 25% of the total trip cost along with the booking amount will be charged as a cancellation fee.
19 Days to 10 Days of departure date. 50% of the total trip cost along with the booking amount will be charged as a cancellation fee.
10 Days to 6 days of departure date. 75% of the total trip cost will be charged as a cancellation fee.
6 Days to trip departure date. 100% of the total trip cost will be charged as a cancellation fee.
NO SHOW. NO REFUND.
Note: All the reimbursements/ refunds will incur a Payment Gateway charge of 2.5% & GST at 5% respectively. The payment Gateway charges will not be levied to the customers who have made their transactions via UPI.
Please also note that the booking amount for all packages/ trips is non-refundable whereas a Credit Note can be issued if the cancellation is made 3 days before the departure date (at the discretion of the organization)
In case of government orders, harsh weather conditions, protests, landslides, or any other unforeseen circumstances, we work out the best possible alternate plans or trips/ treks. At times even if certain activities are canceled, the organization provides the best alternative but no refunds are provided.
If a trek/trip cannot be completed due to natural calamity or unfortunate circumstances (like rain, snowfall, earthquake, landslides, strike, bandh, etc.). No refund would be provided.
Any extra expenses coming due to any natural calamity mentioned above, will be borne by customer. The company will not be liable.
Cancellation policy will differ the peak season and for popular places.
THINGS TO CARRY
RUCKSACK (Min 55 liters with rain cover): You must carry a good quality of backpack with a comfortable fit and fluffy straps that will not hurt or pain in your shoulders.
GLOVES: Insulated gloves helps your body and hands to keep warm. And it also provide good grip during trekkers.
SUN CAP: A sun cap with side flaps and light weight is perfect to avoid you from sunburn and direct heat.
1 SCARF OR BALACLAVA: Along with sun rays you get hit by dirt and germs during trek which is why it's important to carry a scarf or balaclava to cover your face when needed.
LIP BALM: Lips can become dry, chapped, due to the cold weather during climbing, its important to keep them properly moisturizer.
COLD CREAM/ MOSTURIZER/SUNSCREEN(SPF40): To avoid sun burns and tanning, you need to put on sunscreen, and for making skin moisturized you need to put cold cream or moisturizer to keep it safe from dryness or roughness.
ANTIBACTERIAL POWDER: To avoid rashes from uncertain bacteria in you arm pits or other parts of the body.
WATER BOTTLE 1 LITER: Hydrating your body is most important, when it comes to trekking, so keep a water bottle of at least 1 liter, which you can re-fill in the water springs of the mountains during trekking.
FLOATERS OR SANDALS: Trekking requires a good quality of shoes, you still need to let your feet breathe to avoid chafing and blisters of feet, so when you camp at a stop during trekking carry good pair of sandals or floaters to move your feet freely.
TREKKING SHOES: Shoes for trekking must be good, comfortable, must provide ankle support, and also must have good grip. Shoes must be light weight but strong for trekking.
EXTRA CLOTHES: Carry extra clothes and quick drying clothes with yourself, as the trek will be of long distance, you need to be prepared before for everything.
TREKKING POLE: Trekking pole is important to provide stability and proper balance while walking and it saves energy also.
DOCUMENTS: Identification proof like aadhar card, driving license, voter card, etc
EXTRA POLYTHENE: In case your clothes get wet or dirty, and don't get dry, you can carry them by packing in the polythene. Only, take care that the plastic you're carrying must leave with you, don't litter in the mountains.
CAMERA: This should be important. To capture every memorable moment and every trek you visit, it's important to capture all the moments in the camera, to remind them through pictures and to live the experience through them. Also bring extra batteries and storage.
FAQ (FREQUENTLY ASKED QUESTIONS)
Q1- Where is HAR-KI-DUN located?
ANS- HAR-KI-DUN is located at an altitude of 11,700ft, it is nestled in the garhwal himalayas in the Uttarkashi district of Uttarakhand.
Q2- HOW TO REACH THE BASECAMP OF HAR-KI-DUN TREK?
ANS- Sankri is the basecamp for the har ki dun trek. It is approx 198 km from Dehradun which takes 8-10 hours to reach.
Q3- What is the length of the Har-Ki-Dun trek?
ANS- The Har-Ki-dun trek stretches upto a distance of 53 km.
Q4- How much days it takes to complete the trek of Har-Ki-Dun?
ANS- It takes 7 days to complete the Har-Ki-Dun trek including the drive from Dehradun To Sankri.