Overview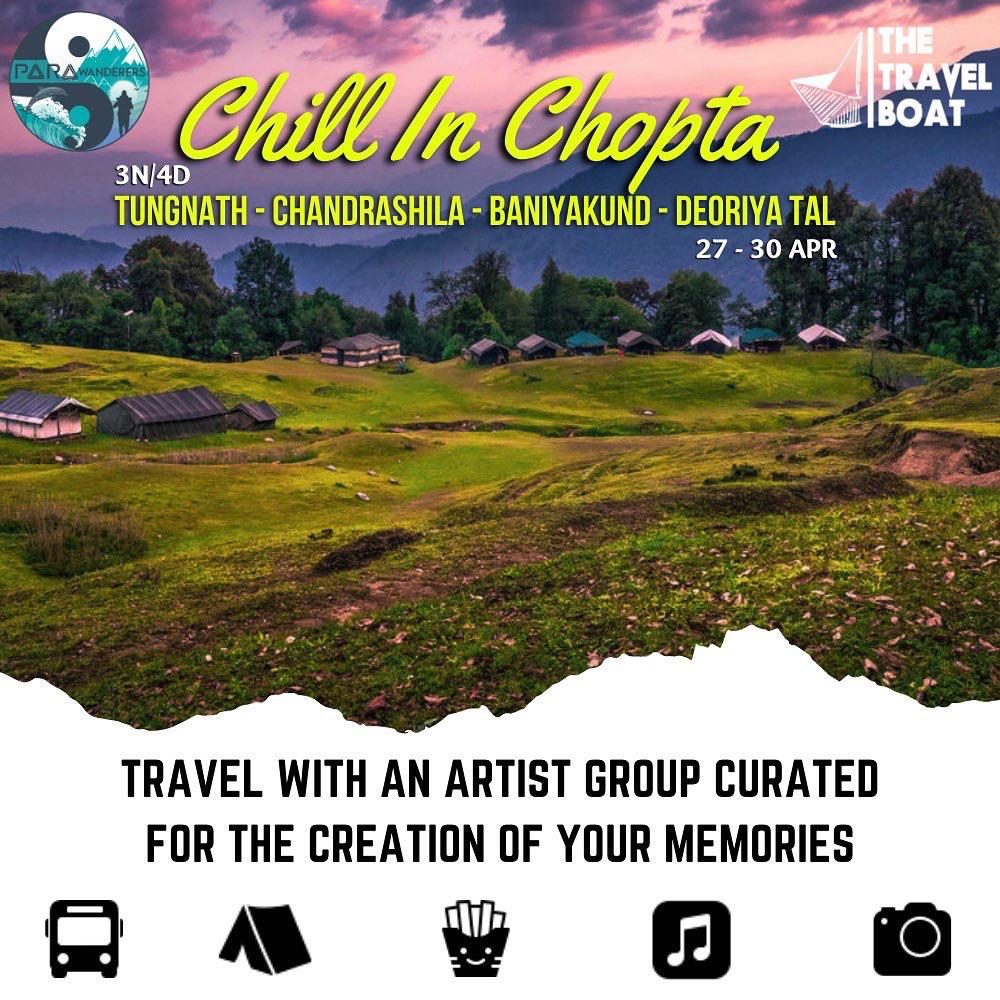 Chill in Chopta
Three nights, four days tour to Chopta, Tunganath, and Deoriya Tal, with the experience of trekking, adventure, peace, fun, and art.
Let's trek to 5000 years old, the highest temple of Lord Shiva, Tunganath, situated at the elevation of 3680Mtrs and majestic Deoriya Tal Lake, along with a group of artists curated for the creation of your memories.
Date: Wednesday, 27th April 2022 – Saturday, 30th April 2022
Inclusions
Transport from Rishikesh to Rishikesh
Three nights' accommodation, one night in homestay and two in self installed tents on twin sharing basis
Meals (From first day dinner to last day breakfast)
Trek and tent equipment
Guide
Sightseeing
Music Nights with Bonfire
Photos and a Vlog of the journey
Fun activities
Price: Rs 9,499/- Per person
(We are inviting only 28 people for this group journey)
Note: Chopta is a moderate yet an effort requiring trek, come prepared for it.
Itinerary
Day 1 (27th April, Wednesday)
Departure to Sari
We'll leave early morning to Sari village and reach there by evening covering a distance of 192KM. The journey will go through beautiful mountains crossing Devprayag, Rudraprayag and Dhari Devi Temple. If things will move on time then we'll see a beautiful sunset in Sari. Stay and dinner will be provided at a homestay along with music sessions.
Day 2 (28th April, Thursday)
Trek to Tunganath and Chandrashila
The day is adventures, peaceful and full of beauty. After breakfast, we'll leave to Chopta in vehicle covering a distance of 10KM. As soon as we reach, a 3.5KM trek to Tunganath begins, carrying a shoulder bag having essentials and lunch. After spending some time in temple premises we'll begin the 1KM steep trek to Chandrashila and will be back to Chopta by evening. Then we'll proceed on installing tents at Baniyakund which is a beautiful forest area, 5KM downhill from Chopta. Dinner will be prepared and provided at camp site along with fun and music sessions. This night will be spent without electricity, take along your power banks.
Day 3 (29th April, Friday)
Downhill trek to Deoriya Tal
This day will be spent in the lap of nature alongside the majestic Deoriya Tal. After breakfast at Baniyakund, we'll start a 6KM downhill trek of Deoriya Tal and reach there by afternoon for lunch. The other half of the day will be spent in photography sessions, nature gazing, understanding Himalayan range and bird watching beside the beautiful lake of Deoriya Tal. We'll set up our tents for stay and dinner will be provided along with the final music sessions.
Day 4 (Monday)
Departure to Rishikesh
We'll departure after breakfast saying bid adieu to Chopta and reach Rishikesh by evening covering a distance of 191KM.
Hosting Group
Ankit Badola
Ankit Badola, co-founder of Travel Boat, having experience of more than five years in the travel industry, he has led many groups with his charming smile. He also successfully runs beautiful Free Spirit Café in Rishikesh.
Jasmeet Singh Fotisto
Amazing photo/videographer from Ludhiana, Punjab, working in his field from last 9 years. Jasmeet has been part of many Punjabi music videos and is famous by the name of Fotisto. He will be capturing your moments.
Abhay Verma
Abhay is a Software Developer by profession and his heart belongs to music. He plays Guitar, Flute, Harmonica, Ukulele and a few more instruments. His very presence is soothing and with music, he is just awesome.
Sandeep Dutt
An artist devoted to art & culture and passionate about chasing stories. Sandeep is a writer and also runs Para Wanderers as Director/Travel Guide. He may also recite his poems while guiding through the treks.
For More Enquiries Call us at 9812597039
FAQs
How difficult is the entire journey?
Chopta treks are moderate to do, if you use decent level of walking in your day to day life, you'll do well.
I am travelling alone, is that ok?
Absolutely! Many of our travellers travel solo and find their travel mates on the trip!
What kind of clothes are suitable?
Days are warm but nights could be pretty cold and temperature could drop to freezing level in Chopta, so carry thermal wears and jacket as well.
What kind of footwear is suitable?
Good anti-skid sports shoes will do well.
Can I get a single stay package?
No. As of now we are providing double sharing accommodation only.
How safe will be my belongings?
Your safety is our priority, trust on this